SXU Professor Graham Peck published book receives abundant acclaim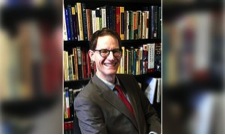 Institutions of higher education are home to countless dedicated and intelligent instructors, who strive to cultivate the success of their students, and excel in the professional sphere. Saint Xavier University (SXU) is committed to recognizing the excellence of its faculty, with a deep gratitude and pride for their accomplishments. This is why SXU is delighted to congratulate Professor Graham Peck, Ph.D., on the recent publication of his book: Making an Antislavery Nation: Lincoln, Douglas, and the Battle over Freedom.
Peck is currently a professor of history in SXU's Department of History and Political Science. He received his bachelor's degree in history in 1991 from California State University, Hayward. Originally from Oakland, Calif., Dr. Peck made the move from the west coast to Evanston, Ill. in 1992. Nine years later, in 2001, he earned his Ph.D. in American history from Northwestern University, and began his career in SXU's College of Arts and Sciences by 2002. Dr. Peck has taught a number of classes at SXU, including a ground-breaking dual enrollment historical documentary course, which he partnered with the Art and Design Department to make possible.
Pre-Civil War American history, Illinois history, Modern Japanese history, historical methods and historical documentary filmmaking are Dr. Peck's areas of specialization. Previously, he has authored multiple articles featuring topics such as Abraham Lincoln and Stephen Douglas, the early Republican Party of Illinois, and a chapter on the Antebellum Party System. Dr. Peck has also written, directed and produced a film on Douglas, entitled Stephen A. Douglas and the Fate of American Democracy, running at 57 minutes, which debuted in 2014.
His newly released book, published by the University of Illinois Press, tackles the anti-slavery movement, in regards to Lincoln and Douglas. There is an emphasis on slavery in relationship to freedom, and a focus on how each of the two politicians framed an issue that would divide the nation. Though it just hit the shelves, Dr. Peck's book has received abundant acclaim. Academics have described it as "sophisticated" and an "important reinterpretation of the political battles" as it educates the reader on the climate at the time and brings the importance of history to light.
Grateful for the publication, Dr. Peck is also excited to share it with students.
"I am really pleased that the book is now in print--and can finally be read by many people who contributed to it, including Saint Xavier University undergraduates who contributed to the research and are mentioned in the acknowledgements," said Peck. "I am also excited because I am teaching the book for my Illinois history course this fall--we will see what the students have to say about it!" he exclaimed.
Congratulations, Dr. Peck! SXU notices your achievements and wants to thank you for your service to the University; the students thrive with your knowledge.
Dr. Peck's book can be found online. For more information on SXU's History and Political Science Department, please visit the website.
---