/
/
/
Saint Xavier University sets President's Scholarship Celebration for April 1
Saint Xavier University sets President's Scholarship Celebration for April 1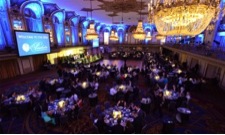 Saint Xavier University (SXU) will host its 32nd Annual President's Scholarship Celebration on Saturday, April 1 at the Radisson Blu Aqua Hotel, 221 North Columbus Drive, in Chicago. This black-tie optional gala begins at 6:30 p.m. with a reception featuring the SXU student jazz trio, followed by dinner and a special performance by Chris Mann, a finalist on NBC-TV's "The Voice," who recently starred as the Phantom in the new Phantom of the Opera's National Broadway Tour. After the performance, there will be dancing and desserts in the Atlantic Ballroom and the Atlantic Ballroom Foyer. SXU also holds a Catholic Mass onsite at 5:30 p.m. for those who wish to attend.
"This event is an opportunity for us to celebrate our generous donors and the extraordinary impact they make in the lives of SXU students across all disciplines," said SXU President Laurie M. Joyner, Ph.D. "We're so grateful to our dedicated donors who help our students, many of whom are first generation college students, to fulfill their dreams of a quality education."
This fundraiser, a tradition since 1985, has raised nearly $6 million for student scholarships and is one of the most anticipated events of the year. SXU student ambassadors figure prominently at the event, acting as hosts or greeting guests upon arrival, while others are featured in a video and slideshow presentation.
Chairing the 2017 Celebration are SXU board chair and alumna Timothy G. Trahey '82 and his wife Therese. Major donors include John T. Costello and Sally Clair, SXU President Laurie M. Joyner, Ph.D. and her husband, Jay Joyner, Henry Bros. Co., Axion RMS Ltd., Dynamic Building Restoration, Inc., James A. and Patricia A. '83 Morris, Ph.D., John R. '89 and Patricia T. DeLeonardis, Dr. Gerald and Mary Clare '65 Loftus, John C. and Jane McCarthy, and Brian O. Shannon Jr. and Kitty Shannon.
---