/
/
/
SXU raised over quarter of a million dollars for students at 32nd Annual President's Scholarship Celebration
SXU raised over quarter of a million dollars for students at 32nd Annual President's Scholarship Celebration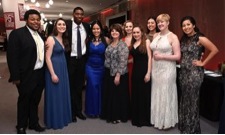 Saint Xavier University (SXU) recently raised over $273,000 for student scholarships at its 32nd Annual President's Scholarship Celebration. More than 250 guests attended the delightful evening of dinner, entertainment and dancing at the Radisson Blu Aqua Hotel, 221 N. Columbus Drive.
"This event was an opportunity for Saint Xavier to celebrate the University's mission and values, while giving special attention to welcoming our new President Laurie Joyner," said Associate Vice President of University Advancement John Bass. "I want to express the profound gratitude of the University to its generous alumni and friends. Their support provided much needed scholarship assistance to Saint Xavier's wonderful and deserving students who seek educational experiences and opportunities."
This year, SXU celebrated in a beautiful new venue with an entertaining new program format. As part of the Celebration's evening entertainment, Chris Mann, a finalist on NBC-TV's "The Voice," who recently starred as the Phantom in the new Phantom of the Opera's National Broadway Tour, delivered an outstanding and moving performance. During the cocktail hour, guests enjoyed a special performance from the musical stylings of SXU's very own Student Jazz Trio.
It was an engaging and memorable event for all in attendance as SXU celebrated the legacy and accomplishments of the University, its vision for the future, and the productive role the institution plays within the greater Chicago area.
The event was chaired by SXU board chair and alumnus Timothy G. Trahey '82 and his wife Therese. The chair couple's visionary leadership, time, talent and treasure ensured the success of the evening's affair.
All proceeds from the Celebration go to the University's general scholarship fund, which provides financial support to SXU's most deserving students. To view the promotional video that premiered at the Celebration, please go online.
---