SXU's Joseph Preston published in PULSE Magazine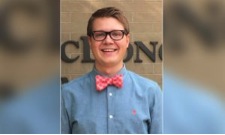 Saint Xavier University's (SXU) Director of Pastoral Ministry Joseph Preston was published in the April 2017 edition of PULSE Magazine. The magazine serves as the official publication of the Catholic Campus Ministry Association (CCMA). CCMA and PULSE Magazine are resources for college ministries that focus on building communities and meeting the needs of students. This is Preston's first time being published in the magazine.
"It is a great feeling to be published by a group that you look up to," said Preston. "CCMA is an organization that you hear about as you become a campus minister and a group that offers so much support and advice for what to do as campus ministers. Working with college students and their faith journey has been the entirety of my young professional career and it is always great to write about something you have great passion for."
Entitled "On My Campus: Empowered by the Spirit," Preston's article focuses on the importance of accompanying students on their spiritual paths. He advises campus ministers to look beyond administrative duties, and to recognize what is in front of them: students.
Preston's goal for campus ministry at SXU is simple; to continue to reach out to students, and to offer them a diverse and fulfilling faith experience during their college career.
For more information on CCMA, you can visit their website.
---