SXU ranked on '10 Best Online Education Master's Programs' list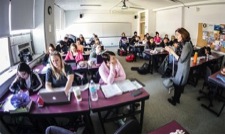 Saint Xavier University (SXU) takes pride in education. Thus, it is fitting that a list for the "10 Best Online Masters in Elementary Educations Degrees for 2017" named SXU's program in the ratings, coming in at number six. Education is one of the original fields of study for the university, dating back to 1846 when it was founded by the Sisters of Mercy. Teaching degrees are among the most popular at SXU, both in undergraduate and postgraduate levels.
"Saint Xavier University is dedicated to providing the best quality education to its students," said Interim Provost Suzanne Lee, the former dean of SXU's School of Education and now interim provost. "It's the everlasting commitment to quality education here at SXU, which has been proven through this ranking."
The ranking was awarded by Top Masters in Education, an organization dedicated to the recognition of outstanding Masters of Arts in Teaching (MAT) curriculums. A master's in teaching is critical for those who want to pursue teaching when their undergraduate degree is in a discipline; successful completion of this program will allow candidates to apply for an Illinois Professional Educator License. There are three categories for judging the programs: residential, online and affordable. The lists are assembled following detailed research on schools across the nation. Sources such as the National Center for Education Statistics, the National Council for Teacher Quality, Payscale and the U.S. Bureau of Labor Statistics are scoured for data on tuition, salary and student to faculty ratios.
SXU offers its MAT in Elementary Education both online and in the classroom. A bachelor's degree is required for the application process and there are prerequisites for admission to the program. Completion allows graduates to teach grades 1 to 6 and leads to licensure in the State of Illinois. Both coursework and fieldwork are needed to pass the mandatory 47 credits. The cost is $575 per credit, considerably affordable compared to other schools.
"Preparing future educators is a privilege, and we instill the power of knowledge within them," said Interim Provost Lee. "Through rigorous courses, we challenge students and provide them with the skills necessary to succeed."
For more information on SXU's graduate program in education, visit the Education Department's website.
---