White Sox legend Ron Kittle visited SXU for Homecoming Week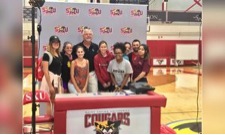 The South Side of Chicago takes pride in its city's sports, especially baseball. This is why Saint Xavier University (SXU) was proud to welcome former Chicago White Sox player, Ron Kittle, to its Chicago campus on Monday, September 25. The retired baseball legend made his appearance in the Shannon Center, welcoming students, faculty and staff with the opportunity for a picture, autograph, and friendly handshake.
The SXU community was excited and grateful for the visit.
"I heard he has an amazing personality, and I wanted the chance to get to meet him," said Izzy Fernandez, a first year student majoring in sociology. "As a South Side resident, it's a privilege to meet one of the best White Sox players in history."
Monica Justice, a speech pathology major in her junior year, was encouraged by her parents to greet the great.
"My dad is a huge fan, and my family has always rooted for the Sox, so I really wanted to make the most of this opportunity to meet him."
During his MLB career, Kittle was a talented left fielder and designated hitter. In 1983, he was named Rookie of the Year after hitting 35 home runs that season to break the club record. From 1986-1991, Kittle played for the New York Yankees, Cleveland Indians, and Baltimore Orioles, before closing out his career in '91 with the White Sox.
"Being part of the White Sox, we're committed to the South Side of Chicago," said Kittle. "It's a community, and we want to support success and encourage students to reach their full potential."
Those who had their picture taken with Kittle will be able to access them on Wednesday, via the SXU Facebook page. Thanks to Ron and the SXU community for coming out, it was a home run for Homecoming Week!
---