/
/
/
SXU's Schmitt Scholars host 'Beyond Color Lines' panel discussion on racial justice – April 11
SXU's Schmitt Scholars host 'Beyond Color Lines' panel discussion on racial justice – April 11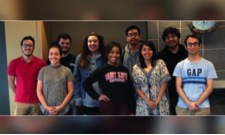 How do racial and social inequalities sustain the system of oppression? How has the immigration climate changed under our nation's political transition? These questions and more will be addressed at Saint Xavier University's (SXU) "Beyond Color Lines" panel discussion on Tuesday, April 11 at 6 p.m. in Warde Academic Center's McGuire Hall, 3700 West 103rd Street. Due to the amount of stories in the media surrounding immigration, citizenship, and racial and gender inequality, the students chose to host a panel that would address these topics. This event is funded by the Arthur J. Schmitt Foundation and is free and open to the public.
Eleven SXU students have worked together to coordinate this event as part of their participation in the Schmitt Scholars Program.
Three SXU professors will conduct five minute presentations, which will be followed by an open forum for those in attendance to ask questions. Associate Professor of Philosophy Forrest Perry, Ph.D., will discuss how racial inequality is contingent upon social inequalities and how it sustains the system of oppression based on race. Associate Professor of History Amanda Lopez, Ph.D., will discuss the issue of immigration in present day as well as our nation's current citizenship process. Associate Professor of History and Social Science Education Coordinator Karen Benjamin, Ph.D., will address her personal experience of becoming an activist, and how participation in social movements has evolved throughout her life.
The Schmitt Scholars Program offers promising SXU students the opportunity to advance their leadership efforts at the University and prepares them to make a broader impact on the world after graduation. Schmitt Scholars receive a merit-based scholarship and participate in numerous leadership development programs that require study, reflection, and implementation of leadership projects.
The Program is supported by the Arthur J. Schmitt Foundation, which dedicates its resources to building a better and more humane world by nurturing values-driven leadership among high school, college and graduate students. Schmitt was a successful entrepreneur, engineer, and inventor who founded the company Amphenol in 1932, now a publically traded company and the world's largest interconnect and cable manufacturer. Recognizing the power of technology to change the world, Schmitt also believed that ethical and spiritually reflective leadership was a necessary partner to technology development and dedicated his philanthropic goals to supporting this ideal. His legacy has supported generations of Schmitt Scholars at selected high schools, colleges and universities throughout the Midwest.
For additional information on the Schmitt Scholars Program, please contact Erin Mueller, executive director of Corporate, Government and Foundation Relations at emuellerFREESXU.
---