Saint Xavier senior makes his mark on the institution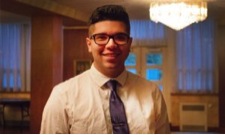 A university thrives because of its students. As learners and leaders, students pave the way for institutional success. Saint Xavier University (SXU) is grateful for its undergraduate and graduate population, and the impact they have on the University. That said, SXU would like to recognize Mauricio Diaz for his academic accomplishments and leadership endeavors. Through his involvement in registered student organizations (RSO) and campus departments, Diaz has generated a positive impact to the SXU community.
A resident of Chicago, Diaz is a senior biology major at SXU. His career path is aimed at becoming a physical therapist, which ties together his passion for sports and interest in science. Although his major is time consuming, he still dedicates time to be active as a student leader. Currently, he is a cougar peer educator (CPE), commuter peer minister (PM), student ambassador tour guide, and the president of Unidos. Aside from his busy schedule, he also navigates the journey of being a first-generation college student. Although his plate is full, Diaz never complains; instead he uplifts those around him and reminds them of all that SXU has to offer.
Recently, Diaz was selected to attend the 31st annual conference of the Hispanic Association of Colleges and Universities (HACU), and was the first SXU student to do so. He heard about the conference through Dr. Amanda Lopez, associate professor of history, who urged him to apply for a scholarship to cover the cost of the symposium. Diaz was chosen as one of the 63 recipients of the scholarship, making it possible for him to attend the seminar, which focuses on higher education and leadership in the Latino community. This year's conference was held in San Diego, Cali. from October 28 - 30. Over 750 undergraduate students were present for the occasion. Diaz was excited and thankful for the opportunity to network for future internship and career opportunities.
The driving factors in his involvement are change and the influence of a former staff member, Ada Crowley.
"I got involved at SXU because I wanted to make a difference, and most importantly help first-generation Hispanic students," said Diaz. "I couldn't have accomplished everything I've done to this point without the help of Ada. I remember walking into the Student Life Office super nervous, yet excited to introduce myself. I knew being the president of Unidos came with a lot of responsibility, but Ada helped me transition into that leadership position. Ada even encouraged me to apply for student leadership positions (X-Factor). These position have opened the doors to endless opportunities that have helped me grow as a person."
Reflecting on the semester, Diaz is proud of two major accomplishments. The first was traveling to the HACU conference. He was also responsible for planning and hosting SXU's first annual Latino awards ceremony for Hispanic Heritage Month, entitled "Estrellas de SXU," or SXU Stars. The ceremony celebrated SXU's Hispanic students, and their accomplishments as students, as well as leaders. Nearly 35 percent of the undergraduate population at SXU consists of Hispanic students, a number that continues to rise. Diaz wanted to recognize his peers for their efforts, and celebrate the growing accomplishments in the community.
When Diaz attended the conference, it reminded him of how he became a leader, with the help and support of his family and friends. He has made it his mission to pay it forward, by offering what he has learned to his fellow community members and encouraging them to reach their full potential in whatever capacity they choose, whether it's as a student, as a leader or as a person. As for the future, Diaz still has his sights set on becoming a physical therapist; however, he is also committed to inspiring others in his community to continue their education and achieve success.
Diaz happily offered a piece of advice to current and incoming students: "Work hard and be patient. The rest will follow."
Congratulations, Mauricio! Thank you for all the hard work you have done, and for all the contributions you continue to make. SXU is proud of your accomplishments!
---