SXU Shannon Center offers summer break college memberships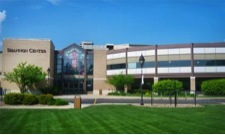 Summer is coming and Saint Xavier University (SXU) is packing the books away and busting out the gym shoes! Break in your summer the right way by signing up for summer vacation college membership at SXU's Shannon Center. Beginning Monday, May 15, college students from other universities are welcome to purchase a membership for summer break. The cost of the membership is $80 per student - the perfect deal for students looking to stay busy and fit for the summer!
"This is a great opportunity for college students returning home that want to stay active," said Jen Quinlan, director of SXU's Shannon Center. "We offer all the amenities needed to accommodate an active fitness routine, while also being conveniently located."
The summer break membership includes: access to the fitness center, track, racquetball court, open gym, and group exercise classes. Students must present their current school ID at the Shannon Center's front desk and ask for a manager to register. Payments can be made through cash, check or credit card.
For more information, please call 773-298-3597 or visit the Shannon Center's web page.
---