/
/
/
Saint Xavier University's Indoor Duathlon set for Feb. 26 at Shannon Center
Saint Xavier University's Indoor Duathlon set for Feb. 26 at Shannon Center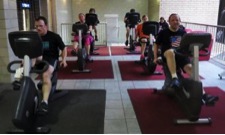 It's about that time again where local area athletes come together for Saint Xavier University's (SXU) Indoor Duathlon scheduled for Sunday, February 26 from 8 to 11 a.m. at the University's Shannon Center, 3600 West 103rd Street.
The competition is comprised of three 15-minute races with five-minute breaks in between. Exercise enthusiasts will begin by running or walking on the indoor track; then, 'peddle-to-the-metal' on a stationary bike; and conclude with another 15-minute dash around the track. The goal is to try to complete as many laps on the track or miles on the bike as you can in the given time frame.
"The Indoor Duathlon is a unique race that combines both running and biking," said Jennifer Quinlan, director of the Shannon Center. "The great thing about the SXU Duathlon is that it is all done indoors, so it's perfect during the winter months. Many of our participants just sign-up for fun with their friends, while others do it to help them stay competitive during the winter the months. It's a great event for all levels of fitness!"
The cost to join is $15 for SXU students; $20 for SXU faculty, staff, alumni and Shannon Center members; and $25 for the public community, age 18 and older.
For more information or to register for this event, go to the Shannon Center webpage.
---