Shannon Center Member Spotlight of the Month – April 2017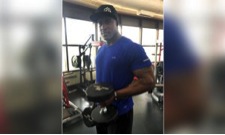 Saint Xavier University's (SXU) Shannon Center has been open to the community for over 17 years! As a way to show appreciation of the community's support, the Shannon Center will highlight one loyal member each month.
The Member Spotlight for the month of April has been awarded to Theodore Robinson. He credits his membership to friend John Frederickson, a Shannon Center Bootcamp instructor. Having a father in the military inspired his love of working out, especially lifting weights.
"The atmosphere is soothing, and they have great equipment," said Robinson. "I also like that it's close to home and the staff and members are very friendly. I enjoy being around college students because I find that young adults are hungry and eager to learn, and I'm glad I can be an inspiration and a mentor."
Robinson is a police officer and has worked for the Evergreen Park Police Department for almost five years. He attributes his ability to serve the community and make a difference to his workouts.
A typical workout for Robinson includes strength training and cardio. Weight lifting and basketball top his list as favorite activities. Currently, Robinson is an amateur bodybuilder whose passion has become a lifestyle.
A huge motivator for Robinson are his children, twins Thea and Theo.
"You have to have a goal. Life can be challenging, but you can't let life keep you down."
Congratulations, Theodore! Check back to see the Shannon Center Spotlight for the month of May!
---