Shannon Center Member Spotlight of the Month— December 2017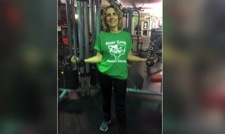 Saint Xavier University's (SXU) Shannon Center has been open to the community for over 17 years! As a way to show appreciation of the community's support, the Shannon Center will highlight one loyal member each month.
The Member Spotlight for the month of December is Susan Poole. As a community member from Beverly, she praises the Shannon Center for its convenience and friendly atmosphere. Finding a gym that caters to your needs is one thing, but as Poole states, it's an even greater fitness adventure when you can challenge yourself.
"I joined the Shannon Center to 'step up' my fitness routine and challenge myself," said Poole. "With the great class offerings, the extended hours of the training center and the track -- there are no more excuses!"
Poole is a proud alumna, having obtained her MBA in 1995. She attends St. Barnabas Parish alongside her husband of 25 years and four adventurous children. Poole enjoys being active because it "makes you feel so much better" and allows for her to have more energy and a clearer mind.
A typical workout for her includes: 30 - 40 minutes on machines before heading to the dance studio for a combination of weights, Pilates and yoga. Additionally, she enjoys taking the various classes offered, such as: Cardio Kickbox, People on Weights (POW), Pilates and Bootcamp.
Keeping herself challenged is how Poole stays motivated on a daily basis. She believes that exercise creates a healthy mind and body.
"Start small, challenge yourself a little more each day and imagine yourself in the best shape of your life!"
Congratulations, Susan! Check back to see the Shannon Center Spotlight for the month of January!
---