Shannon Center Member Spotlight of the Month—August 2017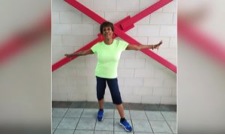 Saint Xavier University's (SXU) Shannon Center has been open to the community for over 17 years! As a way to show appreciation of the community's support, the Shannon Center will highlight one loyal member each month.
The Member Spotlight for the month of August goes to Johnnie Logan. In the midst of retirement, Logan was in search of daily activities. She heard about the Shannon Center, and nearly 10 years later, it's still part of her routine. She appreciates the indoor facilities and friendly atmosphere.
During her workouts, Logan likes to walk. She prefers to be indoors rather than outside, so the indoor track is a great tool for her. She is flexible about what time she goes to the Shannon Center, but she makes sure to walk at least three miles.
"A family friend mentioned the Shannon Center to me, so I decided to try it," said Logan. "I like it! I meet a lot of interesting people while walking on the track, and I like to talk to them. When I walk alone I find a rhythm to keep my pace. Walking gives me that edge!"
Chicago has been Logan's home for the majority of her life. Before she retired, Logan worked at Nabisco for 38 years. She has two daughters, and she is the grandmother of two granddaughters, one of which will be a freshman at DePauw University in Greencastle, Ind. in the fall.
Logan knows that exercising keeps her healthy and boosts her energy.
"Get out, walk, meet interesting people and communicate!" advised Logan. "It's healthy."
Congratulations Johnnie! Check back to see the Shannon Center Spotlight for the month of September!
---