Shannon Center Member Spotlight of the Month—June 2017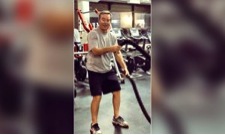 Saint Xavier University's (SXU) Shannon Center has been open to the community for over 17 years! As a way to show appreciation of the community's support, the Shannon Center will highlight one loyal member each month. Members will be chosen by a full-time staff manager or student manager and will be featured on the Shannon Center's section of the website.
The Member Spotlight for the month of June goes to Ed Moran. After hearing outstanding recommendations from neighbors and friends, he decided to become a member of the Shannon Center. He is grateful for the friendly atmosphere and excellent facility.
"First of all, there is a great group of people who work out here," said Moran. "Everyone is friendly from the regulars to all the students. There is an awesome selection of weights and workout equipment, and every year some of the old equipment is replaced with state of the art new machines. It's a great place!"
Born and raised on the South Side, Moran attended Brother Rice High School and is an alumnus of SXU. He and his wife, Karen, live in Evergreen Park and have three daughters. Currently, he is a vice president and financial advisor at Ameriprise Advisor Center.
Moran's workouts consist of strength, core, and cardio. Each week, his goal is to do three days of lifting and at least two days of cardio. He enjoys the stationary bikes, stairs, the track and the rope.
His understanding of exercise and a nutritious diet as key elements to reducing stress and improving health motivate him to keep working out.
"It may seem hard to get started, but once you do it gets easier, and before you know it you are disappointed when you don't or can't go," said Moran. "Once you see the results and make working out a habit, it becomes part of your daily life."
Congratulations, Ed! Check back to see the Shannon Center Spotlight for the month of July!
---