Shannon Center Member Spotlight of the Month – March 2017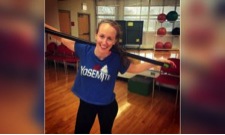 Saint Xavier University's (SXU) Shannon Center has been open to the community for over 17 years! As a way to show appreciation of the community's support, the Shannon Center will highlight one loyal member each month. Members will be chosen by a full-time staff manager or student manager and will be featured on the Shannon Center's website.
The Member Spotlight for the month of March goes to Molly Higgins. She has been a member of the facility since 2009, when she graduated from SXU. Many of her nights are spent working out at the Shannon Center. For the last eight years, she has been a proud and active member.
"I love the people here, and I also love the ping pong tables in the dance studio," said Higgins. "I do my best thinking when I am working out; it is the meditative and reflective part of my day."
Higgins is an operating room nurse at Advocate Christ Medical Center. From 2005 to 2009, she was a student worker at the Shannon Center, and says, "It was a wonderful job!"
A typical workout for Higgins is a combination of the indoor track, exercise classes, and the weight room. This summer, she will be hiking across the Presidential Traverse in the Appalachian Mountains and competing in a marathon in Seattle. Higgins credits the Shannon Center's indoor track for allowing her to train indoors during inclement weather.
Being a member of the Shannon Center runs in Higgins' family, which is where she finds the strength to stay motivated.
"My grandma, who used to be a member of the Shannon Center, used to say 'If you don't use it, you lose it,'" said Higgins.
Congratulations, Molly! Check back to see the Shannon Center Member Spotlight for the month of April!
---