Shannon Center Member Spotlight of the Month—May 2017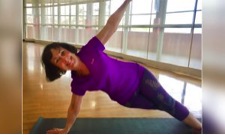 Saint Xavier University's (SXU) Shannon Center has been open to the community for over 17 years! As a way to show appreciation of the community's support, the Shannon Center will highlight one loyal member each month. Members will be chosen by a full-time staff manager or student manager and will be featured on the Shannon Center's website.
The Member Spotlight for the month of May is presented to Joan Prendergast. As a community member from Oak Lawn, she praises the Shannon Center for its convenience. She and her husband, Tom Prendergast, joined the Shannon Center when it was built in an effort to maintain their walking lifestyle throughout all seasons.
"Many classes hit cardio, balance, stretching, and weights. These are crucial to a good workout," said Prendergast. "The very best part of the Shannon Center are the members and the instructors. Jen Quinlan, the manager, works very hard to make the Shannon Center a wonderful place to exercise. I feel very fortunate to be a member."
Prendergast is a Mt. Greenwood native, a graduate of Mother McAuley Liberal Arts High School and an alumna of SXU. She is a retired teacher and mother of two, Jean and Tom Prendergast.
Workouts for Prendergast vary daily, like her schedule. Most commonly she walks the track or climbs the stairs. She is also a big fan of the chair yoga class, and refers to it as brain candy.
What keeps her motivated is feeling healthy, physically, mentally and emotionally. She believes that exercise creates a healthy mind and body.
"Do whatever you are able to do! Try new classes like Zumba. Don't be self-conscious, everyone is watching the instructor and trying to do what she is doing. So come to the classes and make some new friends. The Shannon Center makes working out fun!"
Congratulations, Joan! Check back to see the Shannon Center Spotlight for the month of June!
---