Shannon Center Member Spotlight of the Month—November 2017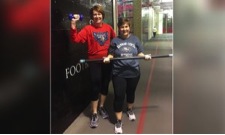 Saint Xavier University's (SXU) Shannon Center has been open to the community for over 17 years! As a way to show appreciation of the community's support, the Shannon Center will highlight one loyal member each month. Members will be chosen by a full-time staff manager or student manager and will be featured on the Shannon Center's website.
November's Member Spotlight goes to both Rene Kezon and Bridget Basile. Kezon and Basile first heard about the Shannon Center through a friend, who recommended the 5K training program, which aided them in running their first race. Gradually, they worked their way through various exercise classes, such as bootcamp. Frequently, the pair utilizes the workout room and track at the Shannon Center. It comes as no surprise that the duo share this month's title. Basile and Kezon appreciate the welcoming environment, as well as the wide variety of exercise options.
"I like coming to the Shannon Center because of how friendly and welcoming the staff members are," said Basile. "Rene and I have made many friends along the way."
"I enjoy cross training, so I love the variety of workout opportunities the Shannon Center offers," said Kezon. "There is a sense of community here, and everyone is very friendly and supportive of each other."
A typical routine for Kezon include the exercise classes, workout room machines and walking or running on the track. Workouts for Basile are a mixture of classes (People on Weights, Crazy Core, Pilates, and more), as well as the occasional walk or run. It's often hard for her to tell whether she's sore from the workout, or from laughing with her friends. When Basile and Kezon workout together, they walk for hours while they catch up, making memories on the track.
For both Basile and Kezon, the Shannon Center is a healthy escape for their hectic lives. A lifelong South Side native, Kezon is married with three children, who are all adults now, two of them being in college. She is a medical secretary, and appreciates when she has the chance to be active. Basile has been married to her husband, Lee, for 29 years. Together, they have four children and four dogs. She describes the Shannon Center as a great escape from the chaos of her household.
Basile finds motivation in treating herself. After a workout, it's only fair for her to enjoy some sweets, such as a bowl of ice cream, candy or chips -- she has earned it after all. Kezon, on the other hand, is motivated by the company of a sweet friend. Both of them agree that exercising with friends is helpful and fun.
"Enlist a friend to work out with!" said Kezon. "If it wasn't for Bridget, I would not have found the motivation to go to the classes and find my confidence."
"My advice for those who are looking to get started at the gym is to find a friend like Rene to workout with," said Basile. "It makes it much more enjoyable when you can talk, laugh, vent and even cry to someone while you're working out. Rene and I have made so many new friends that on any given day, I always have someone to talk to."
Congratulations, Rene and Bridget! Check back to see the Shannon Center Spotlight for the month of December.
---