Shannon Center Member Spotlight of the Month--October 2017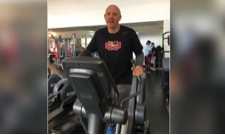 Saint Xavier University's (SXU) Shannon Center has been open to the community for over 17 years! As a way to show appreciation of the community's support, the Shannon Center will highlight one loyal member each month. Members will be chosen by a full-time staff manager or student manager and will be featured on the Shannon Center's website.
October's Member Spotlight goes to Kevin McShane. While searching for a gym, he discovered that many of the local health clubs were similar; however, the Shannon Center stuck out. As a business man and father, he finds it important to make time for his health, and he truly enjoys the atmosphere of the Shannon Center.
During his workouts, McShane believes in keeping a balance. He utilizes the various elliptical machines available in the Shannon Center for cardio and he prefers free weights for strength training.
"The options for health clubs locally are essentially all the same, so the first time I walked into the Shannon Center, I knew I had found a home," said McShane. "The collegiate environment makes the Shannon Center unique and better than the other typical health clubs. The open hours offer maximum flexibility during the week and weekends to work out, especially conducive for the worker and busy parent."
McShane lives in north Beverly with his wife, Kate, and their four children. He is a business executive, and has led many start-up technology companies in his career. His children are currently students at Brother Rice High School, Mother McAuley Liberal Arts High School and Christ the King School.
According to McShane, it is important to maintain a balance to stay in shape, especially in the hectic world of work and family life.
"Make a commitment for thirty or sixty days and hold yourself accountable," said McShane. "Once you get into a routine, you will see the results of exercise, including additional energy and the reduction of stress. Experiment and adjust along the way."
Congratulations, Kevin! Check back to see the Shannon Center Spotlight for the month of November.
---