SXU's Shannon Center sprints through spring with running program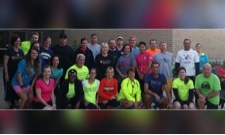 Want to have fun? Saint Xavier University's (SXU) Shannon Center will be hosting a program for running 5K and 10K races. The program begins on Monday, April 17 at 6:30 p.m. and runs for six weeks. Participants will meet in the Shannon Center lobby, located on SXU's Chicago campus, 3700 West 103rd Street. The running sessions will take place outside, or on the indoor track during inclement weather.
There will be coaches in each division to train and assist the runners. The 5K category will have five coaches, and the 10K section will have two or three. Groups will range from beginner paces through nine-minute miles. Children are welcome as long as they are accompanied by an adult.
The program is free for current SXU students. Cost for the community is $20, and for faculty, staff, and Shannon Center members it is $15. The fee can be paid during registration on Monday, April 17, through cash or check (checks should be made payable to Saint Xavier University). Participants will also sign a waiver when they register.
For more information, please contact Jen Quinlan at quinlanFREESXU.
---