SXU's Robert Shapiro breaks down the headlines on CLTV's Politics Tonight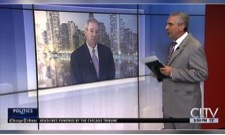 Saint Xavier University's (SXU) Political Philosophy Professor and International Relations Expert Robert Shapiro recently had an interview on CLTV's Politics Tonight on Monday, July 24. During the interview, he talked about the various political headlines that have flashed across media outlets across the country. Specifically, he discussed the ongoing Russia investigation, President Trump's questions about pardons, his comments about Jeff Sessions and what that means for the Department of Justice.
Prof. Shapiro has 36 years of experience as a litigator and trial lawyer for Barack Ferrazzano Kirschbaum & Nagelberg LLP.
---