SXU's Robert Shapiro interviewed on Iran Deal on CLTV's Politics Tonight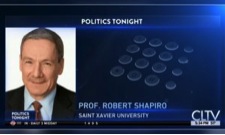 Saint Xavier University's (SXU) Political Philosophy Professor and International Relations Expert Robert Shapiro conducted a phone interview on CLTV's Politics Tonight on Friday, October 13 at 5:30 p.m. During the interview, he discussed President Donald Trump stating the Iran Deal was the worst deal America has ever entered. Specifically, he discussed the President asking Congress to weigh in on certification of compliance.
Prof. Shapiro has 36 years of experience as a litigator and trial lawyer for Barack Ferrazzano Kirschbaum & Nagelberg LLP.
---