/
/
/
TV Alert: SXU's Robert Shapiro interviewed on Obama's Farewell Address on FOX 32 Chicago
TV Alert: SXU's Robert Shapiro interviewed on Obama's Farewell Address on FOX 32 Chicago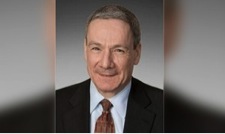 Saint Xavier University's (SXU) Political Philosophy Professor Robert Shapiro served as an expert source during the 8 a.m. FOX 32 Chicago broadcast this morning, January 10. During the interview, he discussed Obama's legacy and what people can expect from the President's farewell address, which will air during prime time on all networks at 8 p.m. tonight.
Specifically, Prof. Shapiro mentioned that President Obama's speech will encompass a list of his accomplishments these past eight years in office. He also speculated that the President's speech will help overcome the wavering feeling both sides of the aisle are currently feeling with the looming inauguration, which in turn, continues his reoccurring message of "hope."
Prof. Shapiro has 34 years of experience as a litigator and trial lawyer for Barack Ferrazzano Kirschbaum & Nagelberg LLP.
---