SXU's Robert Shapiro talks latest SCOTUS hearings on WGN Radio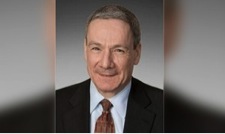 Saint Xavier University's (SXU) Political Philosophy Professor Robert Shapiro recently served as an expert source during a WGN Radio podcast on Thursday, March 23. The radio podcast entitled, "Behind the Curtain" is hosted by CLTV's Politics Tonight anchor Paul Lisnek. During the interview, Prof. Shapiro discussed the latest Supreme Court of the United States (SCOTUS) hearings. Specifically, he addressed the hearings taking place with the SCOTUS nomination hearings with Judge Neil Gorsuch.
Please note: Prof. Shapiro's interview begins approximately at the 16:40 minute mark.
Prof. Shapiro has 34 years of experience as a litigator and trial lawyer for Barack Ferrazzano Kirschbaum & Nagelberg LLP.
---