/
/
/
SXU's Robert Shapiro talked about Supreme Court cases on CLTV's Politics Tonight
SXU's Robert Shapiro talked about Supreme Court cases on CLTV's Politics Tonight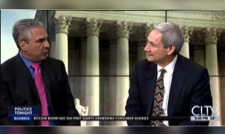 Saint Xavier University's (SXU) Political Philosophy Professor and International Relations Expert Robert Shapiro conducted an in-studio interview with Paul Lisnek of CLTV's Politics Tonight on Friday, December 8 at 5:30 p.m. During the interview, he discussed various cases heard by the Supreme Court last week.
The interview was split between a commercial break creating a two-segment interview. To view each segment, follow the links below:
Professor Shapiro has 36 years of experience as a litigator and trial lawyer for Barack Ferrazzano Kirschbaum & Nagelberg LLP.
---