SXU's Robert Shapiro weighs in on Trump's travel ban on CLTV's Politics Tonight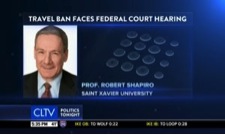 Saint Xavier University's (SXU) Political Philosophy Professor and International Relations Expert Robert Shapiro recently served as an expert source during an in studio interview CLTV's Politics Tonight on Tuesday, June 6. During the interview, he talked about President Trump's travel ban going to the Supreme Court and the implications social media has been playing in the matter.
Prof. Shapiro has 35 years of experience as a litigator and trial lawyer for Barack Ferrazzano Kirschbaum & Nagelberg LLP.
---