SXU School of Education alumna named inspiration by student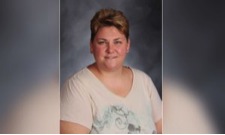 Saint Xavier University (SXU) alumni truly understand the importance of education. SXU alumna Julianne Alvarado, learning resource coordinator at Mother McAuley Liberal Arts High School, shares that knowledge with her students, leading to extraordinary outcomes. Mother McAuley senior Ariyana Davis was not only accepted into 22 universities, but also received $300,000 worth of scholarships. Davis is overjoyed, and has expressed deep gratitude for Alvarado.
"She means everything to me because she's been my learning resources teacher for the past four years," said Davis.
Alvarado began studying at SXU in 1990, and graduated from the School of Education (SOE) in 1995 with a Bachelor of Science in Elementary Education. Then in 2004, she made the decision to further her education, and returned to the SOE where she earned her master's degree in Multicategorical Special Education, and received a Learning Behavior Specialist (LBS) I license.
The qualifications Alvarado has allow her to serve students with disabilities by monitoring their progress, administer evaluations, utilize methods and materials, and work with parents, professionals and paraprofessionals. More information on the programs SXU's SOE offers can be found online.
In response to Davis' remarkable accomplishment, Alvarado was filled with pride. "It's just overwhelming with joy," she said. "I get excited for them. It was really one of those moments where you knew the light bulb had been going off, and my heart was just filled."
SXU offers its congratulations to Ariyana Davis, and thanks Julianne Alvarado for her hard work.
For those who would like to know more about Davis' story, it can be read here.
---