/
/
/
SXU SOE's Book Signing gains attention from Daily Southtown and FOX 32 Chicago
SXU SOE's Book Signing gains attention from Daily Southtown and FOX 32 Chicago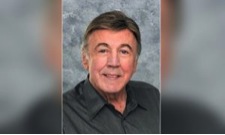 Most kids grow up with a certain dream in mind, such as being a professional baseball player, first female president, etc., but for one man his dream was to be able to read and write, a goal he achieved at the age of 55. Alby Lee Lewis spent his whole life keeping his illiteracy a secret from everyone he knew, even his own daughter. After eight years working diligently to make his dream a reality and now at a 5.5 reading level, he shares his story with the hope of inspiring others.
Saint Xavier University's (SXU) School of Education proudly presents "Life with No Words: A Book Signing" by Alby Lee Lewis, father of Dr. Jaclyn Murawska, assistant professor of mathematics, tomorrow, March 18 from 3 to 5 p.m. in Warde Academic Center's Butler Reception Room, 3700 West 103rd Street, Chicago. Lewis will read an excerpt from his book. This event is free and open to the public. Light refreshments will be served.
As a way to share his story and promote the event, both Dr. Murawska and Lewis were interviewed on Thursday, March 16 during the 9:30 a.m. LIVE broadcast of FOX 32 Good Day Chicago, as well as in the Daily Southtown.
For more information on the event or author, please contact Dr. Jaclyn Murawska at 773-298-3398 or murawskaFREESXU.
---