Saint Xavier University announces spring 2017 concert schedule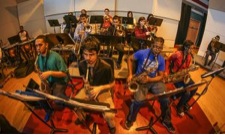 Saint Xavier University's (SXU) Department of Music will host a series of concerts during the spring 2017 semester. All performances are free for SXU students, faculty and staff with a current ID, as well as prospective students. General admission is $6 and admission for senior citizens, visiting students and members of the military is $5. All performances will be on our Chicago campus, 3700 W. 103rd Street. For more information, please contact the Department of Music at 773-298-3421 or visit their web page.
Jazz Combo Festival Concert featuring the Junius Paul Quartet
9 a.m. to 6:30 p.m., Saturday, March 18, McGuire Hall
SXU's Third Annual Jazz Combo Festival Concert will include a full-day of music, as high schools, middle schools, and community college jazz combos from all across the Chicagoland area perform for guest judges and clinicians. The day will conclude with an evening concert by the SXU Jazz Combo, festival participants, and a special guest artist, Chicago bassist and SXU alumnus Junius Paul and his quartet. Paul is an active composer and is well-established in many genres of music, ranging from jazz to hip-hop, house music, funk, classical, and gospel. Paul has shared the stage and recorded with some of the top music artists including: Wynton Marsalis, Curtis Fuller, Donald Byrd, Fred Anderson, Roscoe Mitchell, Kahil El'Zabar, KRS-One, Dee Alexander, Roy Hargrove, and Corey Wilkes.
Wind Ensemble with guests from the Lake Mills High School Concert Band
7:30 p.m., Monday, March 20, Music Performance Space
Under the direction of Benjamin Faugstad, The Lake Mills High School Concert Band (Iowa) will be traveling to Chicago for their spring break trip, to perform alongside the Saint Xavier University Wind Ensemble. Both ensembles will be performing a number of pieces of programmatic music and even a few popular movie scores. In addition, the ensembles will combine to perform John Mackey's inventive work entitled Foundry. The composer requires that the ensemble use what he calls "found percussion." As a result, the ensemble will be using various pieces of metal and wood from all across the Midwest, literally, and will leave the Music Performance Space sounding more like a factory than a musical venue!
Irish Music Concert
7:30 p.m., Wednesday, March 22, McGuire Hall
Come out and enjoy the sounds of Ireland, as SXU's Adjunct Professor Regina Garrity performs with The Dirty Wellies. Keep your St. Patrick's Day festivities going and listen to traditional Irish music!
Symphony Orchestra
7:30 p.m., Thursday, April 6, Music Performance Space
For SXU's Spring Symphony Orchestra, the ensemble will take its audience through a variety of overtures. Although the concept of an overture has expanded to encompass many types of ensembles and genres, it originally began as an orchestral musical selection to be performed at the beginning of operas. The concert begins with Verdi's famous Overture to La Forza del Destino. His work encapsulates the two most powerful elements of any good opera, which are "love" and "death." The drama continues with an overture by German composer Richard Wagner. This work was originally written as the beginning of an epic opera, which lasts well over four hours, entitled, Die Meistersinger von Nürnberg. One of Wagner's most enjoyed operas also shares the strong musical depictions of hope and despair. Finally, the ensemble will perform Johannes Brahms' Tragic Overture, op. 81. This overture was actually not written for an opera, but rather was part of a set of two incredibly different concert overtures that the composer wrote in 1880. When asked of the relationship that the two overtures had to each other, he was noted as saying that one of them, Academic Festival Overture, laughs, but the other one, Tragic Overture, op. 81, weeps. Please join us for an evening of musical drama!
Flute Choir Concert
7:30 p.m., Friday, April 7, McDonough Chapel
This spring concert will feature works from the entire Flute Choir Ensemble, as well as smaller group performances from trios, quartets, and quintets. Repertoire will include folk songs such as Sakura (Japanese) and Shenandoah (American); arrangements of dance music such as Sephardic Medley and Danse Macabre by Camille Saint-Saëns; and pieces by Gabriel Faure and Scott Joplin to round out the program.
Chorale and Opera Workshop Recital
3 p.m., Sunday, April 9, Music Performance Space
The Opera Workshop is a course of seven students who focus on singing music for the stage. The University Chorale, a 50-voice ensemble comprised of SXU students, alumni, and faculty. The Opera Workshop and Chorale present the music of George Frideric Handel's Let thy hand be strengthened and Henry Purcell's Dido and Aeneas. Handel is best known for his work Messiah with its ubiquitous "Hallelujah" chorus; he wrote several pieces for the coronations of British monarchs, including Let thy hand be strengthened, which includes a stately opening of the title's text, a contemplative middle section on the text "Let justice and judgement," and a joyful "Alleluia" section to close the piece. Purcell's Dido and Aeneas tells the story of Dido, Queen of Carthage, and the Trojan Prince Aeneas, who has taken refuge in Carthage after the burning of Troy. Throughout the piece, audience members are taken on a journey of love and heartbreak through a musical expression like no other.
Chamber Ensemble
7:30 p.m., Sunday, April 9, McGuire Hall
Join us for an evening of chamber music from classical to contemporary and beyond! SXU's Chamber Ensemble will feature the SXU Saxophone Quartet, SXU Guitar Ensemble, and SXU Horn Ensemble.
Wind Ensemble
7:30 p.m., Saturday, April 22, Music Performance Space
The semester's final Wind Ensemble concert will feature a variety of newer works, with its feature being the epic masterpiece entitled, "…and the mountains rising nowhere." Composer Joseph Schwantner used Carol Adler's poem arioso bells as his musical subject matter, harnessing his favorite line of the poem as an overall inspiration for the composition and also for use as the work's title. This strange and inventive style inspired an entire generation of composers, who were challenged to be as creative as Schwantner; the work contains a number of unique sounds including crystal flutes, tuned wine glasses, specialized percussion, an amplified grand piano, which will be performed by Professor Patricia Lee, and numerous strange ways of performing standard instruments. Hearing and performing this work is an experience like few others, so we hope you can join us!
Chamber Singers with guest artists La Caccina
3 p.m., Sunday, April 23, McDonough Chapel
This concert consists of works featuring two female vocal ensembles, La Caccina and SXU's Chamber Singers, who will perform music of prolific female composers, poets, and repertoire that speaks of enduring faith, renewed hope, and communal strength. The repertoire include: Abbie Betinis' Be like the bird; Timothy Takach's Cassiopeia; Elizabeth Alexander's Faith is the Bird; Libby Larsen's Today this Spring; Karen Thomas' O virga mediatrix; Kim Baryluk's Warrior; and Rosephanye Powell's Still I Rise; The Chamber Singers are an auditioned ensemble, where any member of the Chorale is eligible to audition. Singers are selected based on their vocal technique and ability, as well as musicianship and interest in learning more about small ensemble singing.
Jazz Night II
7:30 p.m., Friday, April 28, McGuire Hall
Join us for an evening of music that features deep funk and heavy grooves! SXU's Jazz Ensemble will perform works by John Scofield, Steely Dan, Radiohead and more. This performance will also serve as a tribute to graduating seniors in their final concert as SXU students.
Flute Studio Showcase Recital
7:30 p.m., Saturday, April 29, McDonough Chapel
This Flute Studio Showcase Recital will feature SXU students as well as community members playing favorite pieces by famous composers such as Bach, Handel, Rutter, and Clarke.
---