SXU announces spring 2017 Dean's List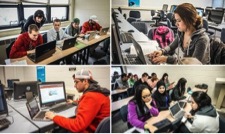 Saint Xavier University (SXU) is proud to announce its Dean's List for the spring 2017 semester. The Dean's List recognizes full time students who have earned and maintained a minimum cumulative grade point average of 3.75 out of 4.0. Students must have completed a minimum of 15 total credit hours at SXU and be enrolled for a minimum of 12 credit hours during the given semester. Congratulations to all for their exceptional academic achievements.
Algonquin
Danielle Mountain, political science/international studies
Alsip
Daniel Ewers, accounting
Anera Gusic, English/secondary education
Hannah Horstmann, nursing
Erin Lyons, communication
Nicholas Reinert, political science
Aurora
Caitlin Ross, communication science and disorders
Bartlett
Adelinne Whittenhall, psychology
Beecher
Blue Island
Melina Castillo, management/marketing
Elizabeth Gonzales, communication
Bourbonnais
Bridgeview
Kamil Maka, undeclared
Daniel Rochford, biology/pre-health
Amira Yusuf, biology/pre-health
Burbank
Omar Abdellatif, general business administration
Ramey Abudayyeh, communication science and disorders
Noor Alaiwi, nursing
Lisa Fielding, psychology
Sylwia Greczek, biology
Diana Guzman, elementary education
Ahmad Hamdan, chemistry
Celeste Lara, nursing
Heba Shaheen, early childhood education
Amy Stout, psychology
Kamil Szczesniak, biology/pre-health
Katarzyna Zapotoczny, finance/marketing
Carol Stream
Chris Thach, art/secondary education
Chicago
Yasmeen Abuobeid, nursing
Nicole Bochenski, nursing
Vanessa Calderon, professional studies/ business administration
Faviola Camarena, communication science and disorders
Francesca Cepero, art/graphic design
Marilee Cervantes-Bautis, psychology
Willie Chavez, psychology
Xana Cushingberry, communication science and disorders
Gabriel Escudero, psychology
Shannon Finn, general business administration
Sinead Finnerty, communication science and disorders
Hennah Garcia, psychology
Kristine Haas, communication science and disorders
Marlena Hall, nursing
Wendy Harootunian, liberal studies
Julie Haselton, nursing
Claudia Hernandez, psychology
Ernesto Hernandez, communication
Adrianna Hernandez, political science
Jason Kozicki, general business administration
Aaron Lopez, general business administration
Michael Lysaught, communication science and disorders
Stephanie Massolle, biology
Molly McLoughlin, elementary education
Hydar Mohammed, English
Gricelda Monroy, elementary education
Aracely Munoz, nursing
Carolina Munoz, nursing
Jennifer Munoz-Patino, criminal justice
Quinn Niego, general business administration
Jocelyn Pacheco, nursing
Samantha Pakula, communication science and disorders
Molly Rademacher, management/marketing
Susan Reyes, biology
Janet Roa, nursing
Roberto Rodriguez, accounting
Eric Rose, music
Amanda Ruiz, communication science and disorders
Karen Solano, psychology
Frank Staszel, nursing
Samayra Toribio, psychology
Elizabeth Torres, English/secondary education
Mayra Torres, nursing
Michelangelo Versace, psychology/criminal justice
Miryam Villarreal, communication
Tiffany Warren, communication science and disorders
Kathleen Wenzlick, communication science and disorders
Ryan Woods, math/secondary education
Chicago Ridge
Justin Grochowski, computer science
Kaitlyn Gruszkowski, psychology
Tyler Mitchell, psychology/political science
Rana Naser, biology/pre-health
Christopher Silbernagel, English
Cicero
Esmeralda Ramos, sociology
Crest Hill
Susannah Marevka, nursing
Crestwood
Derrick Pavoni, accounting
Dolton
Downers Grove
Megan Kumiega, accounting
Evergreen Park
Tamia Hudson, nursing
Kayla Hughes, music education
Marissa Keleher, biology
Andrew Klimczak, accounting
John Lahart, math
Jesse Nasadowski, marketing
Daniel O'Keefe, marketing/management
Christine Pisarczyk, nursing
Michael Reuter, general business administration
Charles Scott, criminal justice
Jillian Siemiawski, English
Mary Thies, marketing/management
Frankfort
Tyler Gaynor, accounting
Marissa Hohman, communication science and disorders
Justin Hunniford, math/secondary education
Freeport
Eleanor Willging, political science/ history
Galesburg
Taylor Thompson, general business administration
Glen Ellyn
Tomei Ball, communication science and disorders
Rana Sadek, psychology
Harvey
Sarina Perez, art/graphic design
Hickory Hills
Karolina Czubernat, early childhood education
Gustavo Diaz Jr., biology/pre-health
Maggie Gruszka, Spanish/secondary education
Homer Glen
Malorie Mikolajczak, early childhood education
Aydah Nofal, English
Homewood
Seth Archer-Helke, sociology
Huntley
Justice
Ashley Chytil, accounting
Hoa Nguyen, sociology
Hoa Nguyen, religious studies
Kinga Stanek, criminal justice
Lemont
Beata Czerwien, psychology
Michael Puzynski, human resource management/finance
Lena
Lockport
Rachel Weis, communication science and disorders
Manhattan
David Settanni, accounting
Melrose Park
Daisy Villalobos, early childhood education
Merrionette Park
Jose Luis Bernales, nursing
Kayla Ford, history/secondary education
Midlothian
Kevin Langland, math/secondary education
Nancy Lesnicki, psychology
Brandon Lipkowski, English
Mokena
Meghan Heenan, English
Kara Krolicki, finance
Nicole O'Donnell, criminal justice
Linnae Rodriguez, hospitality management/human resource management/ marketing
New Lenox
Jenna Martino, communication science and disorders
Amanda Ruskowsky, biology/pre-health
Kayli Wolf, nursing
Benjamin Zordani, criminal justice
North Aurora
Meghan Hill, communication science and disorders/music
Oak Forest
Alyssa Aurelio, nursing
Anthony Chimera, psychology
Jon Dever, accounting
Alicia Dutkiewicz, marketing
Alyssa Gilman, nursing
Kaleigh Urban, psychology
Laura Vogrig, psychology
Megan Zarate, general business administration
Oak Lawn
Jannah Alaiwi, nursing
Zenah Alaiwi, communication science and disorders
Sahar Barakat, education
Randel Bracken, criminal justice
Angie Casey, general business administration
Weronika Ciezczak, accounting/finance
Aileen Gorman, chemistry/biochemistry
Luke Guzelis, criminal justice
Amber Kunz, philosophy
Julianna Magnan, nursing
Sireen Mahmoud, nursing
James Miller, art/studio art
Kelly Quattrocchi, management
Samantha Schlosser, social science/secondary education
Emma Scigalski, philosophy
Kristin Sedrick, professional studies
Rachel Thomas, biology/pre-health
Gianna Torregrossa, sociology
Laura Vasquez, English
Egle Zelinkeviciute, biology/pre-health
Orland Hills
Tasneem Abdelmajid, communication science and disorders
Karisa Brake, art/secondary education
Dennis Villimek, management/marketing
Orland Park
Karlee Beltran, history
Kathleen Fabular, nursing
Julianna Metzler, psychology
Tyler O'Connell, marketing
Kamile Petraityte, finance/accounting
Diana Piatek, marketing
Michael Rizzo, finance/accounting
Aneta Rychtarczyk, communication science and disorders
Rebecca Van Auken, biology
Patrycia Wegiel, nursing
Palatine
Jennifer Gonzalez, biology/pre-health
Palos Heights
Gabrielle Glim, communication science and disorders
Sebastian Michniak, finance
Araceli Vega, professional studies/business administration/organizational behavior
Palos Hills
Anas Alkouk, natural science
Ahmad Ayyad, natural science
Allyson Buczyna, elementary education
Nathaniel Christakis, communication science and disorders/music
Thomas Czech, psychology
Curtis Feipel, biology
Ranna Halim, communication science and disorders
Husain Mahmood, computer science
Salam Mohammed, psychology
Alexis Nowak, communication science and disorders
Magdalena Pajak, psychology
Michael Rankin, communication
Angelika Rol, communication
Magdalena Ulanecka, psychology
Michael Zarnowski, chemistry
Palos Park
Kristina Lalas, finance
Aubrey Malito, music education
Plainfield
Kevin Fervil, general business administration
John Tuley, social science/secondary education
Chanelle Wilcox, psychology
Autumn Woods, nursing
Posen
Noemi Aguirre, sociology/criminal justice
Riverside
Emilio Saucedo, nursing
Alexa Vogel, communication science and disorders
Rockford
Matthew Johnson, marketing/management/finance
Romeoville
Nicole Ziegler, communication science and disorders
Sauk Village
Yesenia Garcia, psychology
Shorewood
South Elgin
Michael Ribando, marketing
South Holland
Marcos Quiroz, accounting/finance
Stickney
Sierra Downey, sociology
Brian McNamara, finance
Stillman Valley
Cristina Alvarez-Paredes, international studies
Summit
Crystal, Delatorre, Spanish
Thornton
Luke Archer, biology/pre-health
Tinley Park
Tiffany Abrams, psychology/criminal justice
Nina Deffala, communication science and disorders
Ashley Galassini, nursing
Noor Jaber, biology/pre-health
William Keenan, political science/communication
Rawan Makhlouf, chemistry
Alexandra Mori, nursing
Daniel Rago, elementary education
Nikita Waller, nursing,
Sarah Williams, finance/accounting
Fabiola Zamora, Spanish for the social professions
Villa Park
Danielle Velasquez, nursing
Willowbrook
Megan Foody, communication
Woodridge
Timothy Cruz, nursing
Grace Maletich, nursing
Worth
Hiba Alwatik, natural science
Heidi Haack, communication science and disorders
Torin Pena, computer science
Torrance, Calif.
Erika Mae Rodriguez, nursing
Bradenton, Fla.
Ashley Kunzman, biology/pre-health
Highland, Ind.
Brandon Barlage, general business administration fast-track
Munster, Ind.
Luke Hackett, general business administration
Breanna Nelson, psychology
Edgerton, Kan.
Kyle Huppe, management/marketing/internet and social media marketing
Kalamazoo, Mich.
Tajah Thomas, international studies
Traverse City, Mich.
Kody Kleinrichert, chemistry/biochemistry
Minneapolis, Minn.
Saint Louis, Mo.
Alexandra Perry, marketing/management
Silver Lake, Wis.
---