Network with employers at SXU's 2017 Spring Internship and Job Fair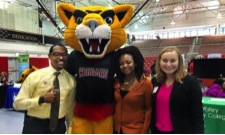 Seeking an internship, part-time or full-time job? Need help navigating the job market? Look no further than Saint Xavier University's (SXU) 2017 Spring Internship and Job Fair – your one-stop-shop for all your employment needs. The Fair is scheduled for Friday, February 24 from Noon to 3 p.m. in SXU's Shannon Center, located at the University's Chicago campus, 3700 W. 103rd Street. This event is free and open to the public!
Employers will recruit for full-time, part-time and internship positions in various industries. Attendees are advised to dress professionally and bring many copies of their resumes.
Companies that have attended in the past include the following: ChildCare Careers; Elim Christian Services; Hayes Beer Distributing Company; Little Company of Mary Hospital; Prudential; Standard Bank & Trust Co.; TCF Bank; U.S. Secret Service; United States Army; and Walgreens.
A full list of employers is available on SXU's website, keyword: job fair. The list of employers attending the fair will be updated on a weekly basis, so be sure to check often! For more information, please contact the Office of Career Services at 773-298-3131.
---