/
/
/
SXU staff member receives '40 Under 40 Young Women Professionals' Award
SXU staff member receives '40 Under 40 Young Women Professionals' Award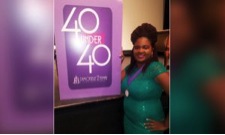 Saint Xavier University (SXU) would not be the incredible institution it is without the aid of its phenomenal staff members. Often, students seek motivation and find role models in the form of employees on staff. Thus, it is fitting for SXU to recognize Lisa Lyons, who is a recipient of the "40 Under 40 Young Women Professionals" award. Lyons' commitment to creating excellence in her community has afforded her the achievement. She will received her award on Thursday, November 30 at the Harold Washington Cultural Center.
Lyons is an academic resource advisor and adjunct faculty member at SXU. She is a double alumna of Western Illinois University and a proud member of Alpha Kappa Alpha Sorority Incorporated. Her involvement ranges from civic, to social, to community organizations. Lyons is an active member of the National Pan-Hellenic, in the role of chaplain. Keeping faith as a forefront in her life, she actively serves St. Paul Missionary Baptist Church as an usher, as part of the Junior Women Mission and the Church Anniversary Committee, and participates in outreach efforts in the Englewood area. Lyons also possesses an Illinois High School Association (IHSA) Sports Official License in cheerleading, dance, cross country and track. Currently, she serves as an instructor for Transitions courses, as well as the coordinator for the Rebound program.
Demoiselle to Femme (D2F) developed the 40 Under 40 Young Women Professional League (YWPL) as a philanthropic initiative for women 25 - 40 years of age. The purpose is to give recognition to young women who have made themselves leaders in their field. Founded in 1994, D2F has helped over 600 girls who were first-generation college students to graduate. Nearly 2,500 girls are impacted by D2F through community based programs and education events. The organization has been instrumental in addressing the personal and social issues of girls and women in Englewood.
Colleagues are excited for Lyons, and have stated their joy in her award, citing her hard work ethic on staff.
"She has served on the African-American Awards Ceremony Committee, and has been recognized at that ceremony as an outstanding staff member," said Maureen Wogan, associate provost. "We in Records and Advising are very proud to call Lisa our colleague."
Lyons herself feels honored to step into the role as a mentor, which will consist of service, networking and leadership development.
"I am truly honored to receive this award and be in a class of amazing women who are pioneers and leaders in various industries," said Lyons. "I encourage the students of SXU to always put their best foot forward, and I strive to lead by example. I really believe in reaching back and helping people along the way. Michelle Obama says it best: 'When you've worked hard, and done well, and walked through the doorway of opportunity, you do not slam it shut behind you. You reach back and give other folks that same chance that helped you succeed.'"
Congratulations, Lisa! Your efforts and involvement are an inspiration to all! SXU is proud to have you on staff.
---