SXU student creates positive impact through service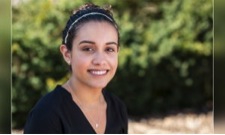 Saint Xavier University (SXU) encourages its students to make a mark throughout their college careers by becoming involved. Not only does it bolster morale; it also gives purpose to the investment in one's education. Often, student leaders support this notion as they achieve goals and exceed expectations. Thus, it is fitting to recognize SXU student Genesis Garcia-Fisher for the positive impact she has on the university community.
From Minneapolis, Minn., Garcia-Fisher is studying for a degree in education, specifically for the middle school level. She has endorsements in many areas, including: language arts, reading, social science and English as a Second Language (ESL). Now in her junior year at SXU, Garcia-Fisher is no stranger to involvement. Since her first year, she has worked her way up the ladder in the Office of Admissions to become a training coordinator for the Student Ambassador program, where she plays a role in securing incoming students. Academically, her excellence has granted her the opportunity to be selected for the Schmitt Scholar Program. Through Campus Ministry, Garcia-Fisher is a Peer Minister (PM) for spring break service trips and mercy charism. Currently, she is the president of Mercy Students for Peace and Justice (MSPJ), and the treasurer for the newly formed Race Justice Education Action (RJEA). In all her roles, she believes activism and social justice are critical elements in supporting students as a Mercy institution.
In her position on the immigration committee for MSPJ, Garcia-Fisher is responsible for coordinating the monthly trips to the Broadview Detention Center, where a prayer vigil is held each Friday for undocumented people facing deportation. Once a month, SXU students can board the shuttle and join the Sisters of Mercy, along with other religious groups, to pray the rosary and call for justice. Typically, distraught family members are seen delivering a single bag of possessions to their loved ones, before they are sent away. Occasionally, those in attendance will witness a bus of people bound for the airport, accompanied only by a guard and a priest. Discussions are led by Garcia-Fisher, before and after, on the shuttle. These trips are a significant part of the social justice framework at SXU. While everyone has a different reason for attending, she understands the safe space it provides students to talk about their families and experiences. She also takes it as an opportunity to educate her peers on immigration and social justice, and how they can actively participate in the movement.
With the recent dismantling of Deferred Action for Childhood Arrivals (DACA) recipients, known as Dreamers, Garcia-Fisher brought MSPJ and RJEA together to design and sell shirts in an effort to advocate for immigration rights. She also helped to plan and lead a demonstration, emphasizing that immigration is a critical concern for the Sisters of Mercy.
Humble by nature, Garcia-Fisher is hesitant to fixate on her accomplishments, but does hope she has done her part in creating a better environment at SXU.
"If I have done anything, I hope I've made students feel safe in a world that doesn't always allow us to. I want to raise the questions others may be too afraid to ask. My hope is that SXU Dreamers know that SXU is a safe place for them, and that we are here to support them," said Garcia-Fisher.
Her goals for this year are learning to balance life and find happiness. While she is passionate about service and leadership, she also realizes the importance in taking a step back and enjoying life in the moment. Moving forward, she aspires for her actions to culminate in SXU becoming a sanctuary school, and to educate her future students on social justice.
Thank you for all your hard work, Genesis! SXU is proud to have students who advocate for what they believe in, and uphold values of both the institution and the Sisters of Mercy. You continue to carry on the spirit of Catherine McAuley in your endeavors.
For more information on service and social justice activities, please visit the Campus Ministry web page.
---