Saint Xavier University's 2017 Student Health Fair on January 25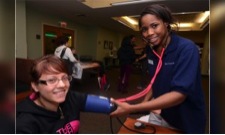 Saint Xavier University (SXU) Cougar Wellness presents the third annual Student Health Fair from 11 a.m. to 1 p.m. on Wednesday, January 25 in the SXU Diner. There will be activities and information about fitness, nutrition, physical and mental health, personal safety and relaxation! This is event is open to SXU students only.
Learn about health-related topics that YOU care about presented by the following SXU departments:
Shannon Center;
Counseling Center;
Alcohol and Other Drug Information;
Health Center;
Country House;
Public Safety;
Student Life;
Student Support.
Enjoy free massages, fitness challenges, guided imagery, and various samples and refreshments. The first 100 students will receive lip balm.
For more information, please contact Jen Quinlan at quinlanFREESXU.
---