SXU student veteran Dan McLaughlin impacts SXU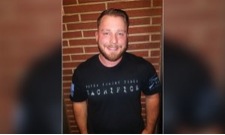 Student veterans possess a determination and courage unmatched by their collegiate peers. Saint Xavier University (SXU) is grateful to student veterans for their sacrifices and proudly welcomes their diversity on campus. Dan McLaughlin Jr., SXU student veteran, has paved the way for his fellow student veterans through his involvement on campus.
A familiar face on campus, McLaughlin is best known for his role as the president of the Student Veterans Alliance (SVA) at SXU. Only a second semester sophomore, he has embraced his leadership position in an effort to advocate for the needs of student veterans. SVA board representatives and members can often be found at events, enriching the lives of others in the SXU community. Currently, the group is working toward a goal of building a memorial for vets on campus. McLaughlin also likes to keep busy by staying active. This year will be his first on SXU's baseball team, and he often participates in the intramural programs offered by the Shannon Center.
During his time in the military, McLaughlin served with the Bravo Company in the 1st Marine 5th Regiment infantry unit. He received an honorable discharge as a Corporal, with the billet of Assistant Patrol Leader. When he finished his service, he chose to attend SXU. He decided to major in criminal justice, and is hoping to pursue a career with the Drug Enforcement Agency (DEA) when he graduates.
"I chose SXU because of the location near my family," said McLaughlin. "I grew up on the South Side and attended St. Rita High School, so I was always aware of Saint Xavier University. I'm very happy with my choice of attending."
In his time at SXU, McLaughlin has fulfilled many accomplishments. This past spring, he received a hand written letter of congratulations from former President Barack Obama in support of his achievements. In June, he was named Hero of the Game for the Chicago White Sox, a huge honor for the South Side native. However, he is most proud of making the baseball team; a great triumph which he credits to the patience and support of the coaches and athletes. He also credits a large amount of his successes to his RSO advisors, Gricelda Gonzalez and Peter Hilton, as well as Tony Campbell, the Vice President for Student Affairs and Dean of Students.
McLaughlin is pleased to see the outcome of his efforts.
"To see the impact that I have made in less than one year within the SXU community with veterans is what truly drives me to be better every day. The support we have from students, faculty, staff and alumni is amazing. Our biggest impact has been with student athletes, all the coaches and alumni. Our support has grown tremendously in such a short amount of time."
Moving forward, McLaughlin hopes to foster an environment of involvement for the student veterans, through athletics and various areas of interest. He believes veterans offer invaluable leadership and guidance to their peers. Currently, he is planning a fundraiser to help earn money for the memorial SVA wants to construct.
Want to help support the SVA? The student veterans' memorial fundraiser will be held on Sunday, October 15 from 1-5 p.m. at 115 Bourbon Street, 3359 West 115th Street in Merrionette Park. Online registration is $35 and increases to $40 at the door. Children six and older are $5, and veteran admission is $25. There will be food, drinks, music and a raffle, featuring autographed Chicago sports memorabilia. For more information or if you have any questions, please contact Conor McHale at 708-522-9887).
Thank you, Dan! SXU admires your determination and accomplishments, and is grateful for your leadership.
---