SXU students attend 2017 International Mercy Service Trip to Belize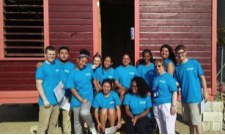 Service is at the core Saint Xavier University's (SXU) Mercy foundation. That is why it is no wonder that each year a group of motivated students travel to Belize, Central America to serve impoverished communities. Typically, this International Mercy Service Trip provides the opportunity for students to build houses while being immersed in a new culture.
From May 14 through May 21, a group of students, staff and a Sister of Mercy embarked on the annual service trip to help families in need. The volunteers consisted of the following:
Hannah Cruz, junior, biology;
Nakia Franklin, junior, nursing;
Brenda Gutierrez, sophomore, business;
Andrea Lopez, senior, biology pre-health;
Jessica Luvianos, sophomore, biology pre-health;
Kenya Muhammad, junior, communications;
Rebecca Stockover, sophomore, psychology;
Tajah Thomas, freshman, international studies;
Marcelino Torres, senior, criminal justice
Sister Margaret Brennan, Sister of Mercy;
William Weyant, graduate assistant for Campus Ministry;
Joseph Preston, director of Pastoral Ministry.
Through Hand in Hand Ministries, an organization that provides healthcare, education and housing to poverty-stricken communities, SXU's group was paired with a family in need of a house. Unlike other ministry services, Hand in Hand allows the families receiving the house to assist in building it. This serves not only to construct a house, but to also build the connections and experiences necessary to create a home.
Belizean history and culture were emphasized through a trip to Mayan temples and a performance by Garifuna dancers. There were also people who shared their stories of what it means to be Belizean.
"One testimony talked about the importance of relationality," said Preston. "That being Belizean is more than going from one thing to another, but really being present with those you love and care for."
SXU participants had the chance to connect with the right core values--respect, excellence, diversity, compassion, hospitality, integrity, learning for life, and service--while they were in Belize.
"Students spend a lot of their college career learning about the impact of service and the importance of reaching out to those on the margins. This trip not only provided our students a tangible way to experience faith in action, but also to be impacted by the love of others. When students have these experiences the world doesn't seem so small, others now have a face and a name to them."
Students who are interested in attending the service trip to Belize can apply during the fall semester. SXU's Campus Ministry reviews the applications and selects nine to 11 participants.
To view more photos from the International Mercy Service Trip, view the Hand in Hand Ministry Facebook album. For more information about how to participate in a service trip, please contact SXU's Campus Ministry.
---