SXU holds Summer Immersion Course on Financial Trading June 26 – 28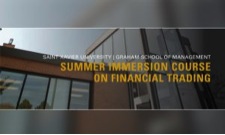 This June, Saint Xavier University (SXU) will be offering a summer immersion course on financial trading June 26 to 28 from 9 a.m. to 3 p.m. The course entitled, "Introduction to Financial Markets and Trading" is open to ambitious high school juniors and seniors who show an interest in business, finance and technology. Faculty from the Graham School of Management (GSM) will be instructing the students at the new Center for the Study of Financial Markets and Derivatives (CSFMD), 3839 West 103rd Street.
The summer immersion course offers students a chance to learn the fundamentals of trading in stocks, bonds and futures along with exposure to risk management. This hands-on basic financial trading literacy course will provide understanding of the complex global financial markets to actively construct portfolios. Students will spend time using BARCHART on PC workstations at the CSFMD, which was founded through a grant by the Chicago Mercantile Exchange Group Foundation. Uses and abuses of financial trading will be discussed to alert students to pitfalls that lead to financial crisis.
Once the course is successfully completed, students will receive an Emerging Scholar in Finance certificate. A group competition will be held on June 28 from 10 a.m. to noon., where winners will receive plaques and monetary awards.
The cost to attend is $200 per person. Scholarships to cover the cost of the course are available, but limited. Lunch will be provided to the students each day.
Parents/guardians will also need to fill out a health form, which should be returned to the Office of Academic Affairs at least one week prior to the camp's start date. They can be mailed to Debbie Nutley at 3700 West 103rd Street, Chicago, IL 60655, emailed to nutleyFREESXU, or faxed to 773-298-3002.
For more information regarding the Introduction to Financial Markets and Trading course, please contact Nicholas Mancari at 773-298-3603;mancariFREESXU, or visit the website.
---