SXU's Sue Swisher interviewed on WBBM Newsradio for Education Week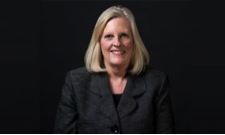 Saint Xavier University's (SXU) Executive Director of Financial Aid Sue Swisher was recently interviewed by WBBM Newsradio on Thursday, May 18 at 12:19 p.m. as part of their "Education Week" segment. During the interview, Swisher discussed her 30 years of experience in the financial aid industry, which includes 22 years at SXU. Specifically, she addressed the various financial aid options available to student to avoid massive amounts of debt post-graduation.
Throughout her professional career, she has been active at the state, regional and national level. She is a past president of the Illinois Association of Financial Aid Administrators (ILASFAA), serving on the executive board and as a committee chair in various positions. On the regional level, she is the current president of the Midwest Association of Student Financial Aid Administrator (MASFAA) and has served on the MASFAA Executive Council as a state representative and treasurer. On the national level, Swisher serves as a regional representative on the National Association of Financial Aid Administrator's (NASFAA) board of directors. She has received numerous awards throughout her career, including the MASFAA's Leadership Award and the ILASFAA's Meritorious Service, President's and Sustained Service Awards.
---