SXU student travels to China for field school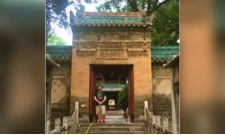 Saint Xavier University (SXU) understands the value of career related experiences, from internships to studying abroad. This past summer, John Shannon, senior sociology major and anthropology minor, completed a study abroad program in Xi'an, China. During the four week program, spanning from June 18 through July 15, Shannon attended an archaeological field school, where he became will versed in research methods and the proper protocol of excavation.
Field school offers the unique opportunity for students who are studying anthropology and archaeology to obtain hands on experience in that area. Undergraduate students are a large percentage of those in attendance. The imperative nature of participation in field school ensures that future researchers learn valuable skills, such as proper excavation techniques, which are crucial to preservation of findings and upholding the ethics of explorations. While in China, Shannon completed the program at the Yangguanzhai Field School, which is a joint operation between the University of California, Los Angeles (UCLA), the Shaanxi Provincial Institute of Archaeology and Xibei University in Xi'an.
Shannon was thrilled with the news of his acceptance into the specialized study abroad program, and his valiant efforts were recognized with the gift of a grant. As a scholar in SXU's Honors Program, he was presented with a development grant to aid in the hefty cost of studying abroad, for which he is deeply grateful.
A typical day for Shannon and his peers followed a simple schedule, yet the time culminated in an intense experience. Students would wake up and ride a bicycle to the site by 7:30 a.m. and begin excavation. A lunch break was given at 11:30 a.m. and then world would resume from 3 to 7 p.m. A tool called a trowel was used to scrape the trench in order to reveal familiar features of common structures. Whenever an object was discovered, a process ensued to record the details, tag it and place it in a bag with clear indications of its nature. Each day came to a close by making a record in field journals and taking photographs of the site.
"This experience has solidified my desire to study archaeology, and has been a defining point in my life, both personally and academically," explained Shannon. "I feel that traveling and studying abroad is an incredibly important part of education as it breaks down barriers between both nations and cultures. It is an opportunity that should absolutely be afforded to all stude:
Yangguanzhai, located in northern Xi'an, is an excavation site where students in the program practice procedures and assist in research. Its cultural heritage, which experts have dated from 5,000 - 3,000 BCE, classifies it as Neolithic, also commonly referred to as the New Stone Age. Shannon was awestruck by its antiquity. For a great deal of China's history, Xi'an was the capital of the nation. The region's legacy is rooted in the Silk Road, when it served as a final point for the sophisticated trade routes. Now, it is the capital of the Shaanxi province, and is home to the largest Muslim population in China.
While his time China was centered around excavation, Shannon did not have to dig deep to recall what was most memorable for him: the people.
"Over the course of the program, I become close to a number of other students, as well as the professors and researchers leading the excavation," said Shannon. "Archaeology is a relatively small field and we will all see each other again, which is definitely something I look forward to."
SXU is delighted to see its students fulfill their passions and pursue their interests. Shannon serves as an inspiration to students seeking to enrich themselves through the experience of studying abroad. SXU is grateful for your contributions to both the program and this University.
For more information on study abroad opportunities, please visit the SXU website.
---