SXU's Joshua Thompson featured in Pioneer Press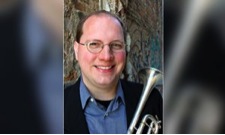 Saint Xavier University's (SXU) Joshua Thompson was recently featured in the news for his commentary on a children's band camp performance. The director of instrumental activities at SXU was at the finale of the weeklong camp, which was formed by a LaGrange public elementary school. Each year, the students in attendance follow a theme, this year's being Pixar.
Thompson, who was awestruck by the music, asked, "Who knew clarinets could swing like that?" He also mentioned that they had discussed "how the kids could practice this summer," which helped them to sharpen their skills.
To read the full story, please visit the Chicago Tribune website.
---