Saint Xavier University Implements 100 Percent Tobacco-Free Campus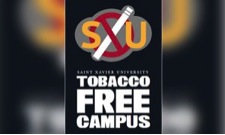 Saint Xavier University (SXU) was awarded a $20,000 grant that will help the University advocate for, adopt, and implement a 100 percent smoke- and tobacco-free initiative on SXU's Chicago and Orland Park campuses as part of the American Cancer Society and the CVS Health Foundation's Tobacco-Free Generation Campus Initiative (TFGCI). SXU will also offer six-week cessation classes through the Respiratory Health Association's Courage to Quit® program to assist SXU students, faculty, administrators and staff as well as the community on their journey to quit smoking.
"We're honored to receive this pioneering grant and join the nationwide effort to help create the first tobacco-free generation while also increasing awareness of the harmful effects of tobacco and secondhand smoke," said Dr. Laurie M. Joyner, president of Saint Xavier University. "Protecting the health and wellness of our faculty, staff, students and visitors as well as creating a healthier and cleaner campus environment is a very high priority for us."
The Respiratory Health Association's Courage to Quit® program includes trained facilitators from the SXU Health Center who will guide attendees through the program. This six-session weekly program was created to provide a supportive group environment for those who find it difficult to quit smoking because we understand the effort it takes to move beyond this unhealthy habit. For a $20 fee, you can attend classes that begin on Thursday, February 2 from 5 to 6:30 p.m. on the Chicago campus, 3700 West 103rd in the Warde Academic Building, Rm E204. Each participant that completes the program will receive their $20 fee back after the last session! Please call 773-298-3712 to register for this program.
SXU is one of the first 20 colleges and universities to receive a TFGCI grant. Through this $3.6 million three-year initiative that will include additional colleges and universities throughout the U.S., campuses will receive technical assistance and resources to support their efforts with education, communications, cessation and evaluation.
TFGCI grants are intended to address a critical, unmet need by helping colleges and universities achieve 100 percent smoke- and tobacco-free campus policies. The U.S. Department of Education reports there are approximately 4,700 institutions of higher education in the United States.
According to the Americans for Nonsmokers Rights Foundation, only 1,427 college campuses are 100 percent smoke- and tobacco-free and now SXU has joined this prestigious club to increase awareness of the harmful effects of tobacco and secondhand smoke. This reflects major progress over earlier years, but much remains to be done.
According to a new Morning Consult poll of 2,202 registered voters, commissioned by CVS Health on October 12-18 2016, there is strong public support for addressing the continued impact of tobacco use on college and university campuses. Among the key poll findings:
More than half of Americans (56%) think the number of tobacco-free campuses is too low. This is similar among U.S. college students where the combined percentage is 54 percent.
Fifty-two percent of Americans think whether or not a campus is tobacco free is an important consideration when applying to, and potentially attending, a college/university, ranking behind academic quality (86%) and quality of housing (79%), but ahead of how competitive athletic teams are (38%).
"Through support from the CVS Health Foundation, we are excited to advance the efforts of many dedicated students, faculty and staff to make their campuses 100 percent smoke- and tobacco-free using proven strategies that will also reduce tobacco use among students," said Cliff Douglas, vice president for tobacco control and director of the American Cancer Society's Center for Tobacco Control. "To be successful in creating a tobacco-free generation, it is important that we prevent and eliminate lethal and addictive tobacco use among America's college students."
TFGCI is part of Be The First, CVS Health's new five-year, $50 million initiative that uses education, advocacy, tobacco control, and healthy behavior programming to help deliver the nation's first tobacco-free generation and extend the company's larger commitment to help people lead tobacco-free lives. CVS Health has set actionable and measurable goals for Be The First, including a doubling of the number of tobacco-free college and university campuses in the United States. In 2014, CVS Health became the first, and remains the only, national pharmacy chain to eliminate the sale of cigarettes and tobacco products from its stores.
"Through the power of partnership and by increasing the number of tobacco-free colleges and universities, we can contribute to the progress being made where a tobacco-free generation in the U.S. seems possible, and not a faraway dream," said Eileen Howard Boone, senior vice president for corporate social responsibility and philanthropy for CVS Health, and president of the CVS Health Foundation.
---