Saint Xavier University Hosts 21st Annual Golf Classic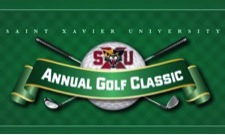 Saint Xavier University (SXU) will host its 21st Annual Golf Classic on Tuesday, August 1 at Silver Lake Country Club, 14700 South 82nd Avenue in Orland Park. Participants will enjoy 18-holes of golf, breakfast, lunch, dinner with a comedy show, all while raising funds for student scholarships! Since its inception in 1997, this event has raised more than one million dollars for student scholarships.
Special guest and emcee is Jim Flannigan, whose quick wit and smart humor have made him a mainstay at the top comedy clubs around the country including Zanies, The Improv, The Laugh Factory and Brad Garrett's Comedy Club in Las Vegas. In 2016, he performed at some of the biggest comedy festivals in the country including Gilda's LaughFest and The Great American Comedy Festival, honoring the late Johnny Carson. He has appeared on ABC, WGN and WCIU-TV and co-hosts the official Chicago White Sox podcast, The Cycle.
"Our annual Golf Classic is a great way to enjoy a day with friends and colleagues and, most importantly, raise scholarship dollars for deserving and talented SXU students," said Associate Vice President for University Advancement John Bass. "Last year, we saw more than 140 golfers attend from the Chicagoland area to help us raise over $110,000; we are so fortunate to have the support from alumni, friends, corporate sponsors and local communities!"
Registration and breakfast begin at 7 a.m., followed by a shotgun start at 9 a.m. Cocktails, dinner, comedy show, golf prizes and a raffle drawing are from 3 to 5:30 p.m. Registration for individual golfers is $300, which includes green fees, cart, continental breakfast, lunch on the course, and dinner (grilled to order steaks) and a comedy show. Participants can also purchase raffle tickets for a chance to win a wide variety of electronics, overnight trip packages and golf gear. Several sponsorships are available and non-golfers can purchase a dinner-only option.
For more information, please contact SXU's Office of Special Events at 773-298-3748.
---