SXU's Office University Advancement 'Adopt-A-Family' for the holidays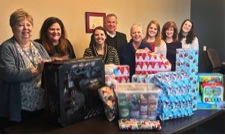 When it comes to a new year, many create resolutions to alleviate their financial state, some hope to bring peace and joy to their loved ones, while others just wish to have a 'better' year. For one family in Joliet, their holidays weren't burdened by the hassle of financial constraints, all in thanks to Saint Xavier University's (SXU) Office of University Advancement. This year, SXU's Office of University Advancement helped make a family's holiday a little brighter, while making their burdens a little lighter all to bring a fresh start to the new year.
In lieu of doing an office secret Santa, University Advancement participated in the St. Vincent DePaul Society's Adopt-A-Family Program, a program that provides food and gifts for approximately 100 families each holiday season. Through the St. Mary of Gostyn Parish chapter, the Office "adopted" a family of five from a sister parish in Joliet. The staff members provided gifts of shoes and clothing for the two adults in the family, as well as clothing, shoes, blankets and, of course, toys for the three children ages three, six, and seven. Altogether, SXU's University Advancement delivered 14 boxes; including five boxes of toys/gifts and nine boxes of food, along with a $100 gift card to purchase the perishables for their Christmas meal.
In attendance to wrap the gifts (pictured from left to right): Wendy Doherty, executive assistant; Jeanmarie Gainer, executive director of alumni relations; Maribel Acevedo, assistant director of corporate, government and foundation relations; Denise DuVernay, associate director of corporate, government and foundation relations; Marvin Fourte, coordinator of student philanthropy; Maloree Johnson, assistant director of alumni relations; Julie Grisolano, director of planned giving and prospect researcher; Alyssa Strbjak, director of annual giving; and Erin Mueller, executive director of corporate, government and foundation relations. University Advancement staff not pictured, include: John Bass, associate vice president of university advancement; Sharon Panozzo, records and gift processor; and Anna Simons, executive director of advancement services.
The group's charitable efforts were featured in the Beverly Patch and the Daily Herald (print issues only).
---