SXU welcomes veterans for 'Bridges to Employment' on April 19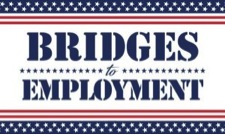 Are you a veteran in search of a job? Do you need assistance in networking? Saint Xavier University's (SXU) Office of Career Services is joining forces with Student Veterans of America-Illinois to host "Bridges to Employment," a panel discussion and job fair catering to local veterans. The event is scheduled for Wednesday, April 19 from 6 to 9 p.m. in SXU's Shannon Center, located at the University's Chicago campus, 3700 West 103rd Street. This event is free and open to the public!
The evening will begin with a panel presentation featuring employers who will advise veterans on how to translate their military skills and experiences in way that they can effectively market themselves for civilian careers. Following the presentation, there will be a networking session in which veterans will meet with employers to discuss career opportunities.
"Organizations appreciate and seek veterans as employees because they develop many key skills and qualities through their military experience that transfer well to civilian careers," said Lee Cruz, assistant director of Career Services at SXU. "This event is valuable to veterans because it allows them to engage in discussions with employers about their career opportunities. Veterans will be advised on how to positively present their skill sets in conversations with prospective employers."
Employers that will be in attendance, include: Cook County Sheriff's Department; Edward Hines Jr. VA Hospital; First American Bank; Illinois Department of Central Management Services; Illinois Department of Children and Family Services; Illinois State Police; Marriott; New York Life; Pitney Bowes; Road Home Program at Rush University; and Zurich North America.
Those interested in attending are encouraged to register online to reserve a nametag and other relevant materials.
For more information, please contact or Gricelda Gonzalez at 773-298-3502 or email ggonzalezFREESXU.
---