SXU's Walk a Mile in Her Shoes gains attention from media outlets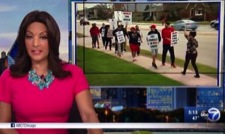 Did you know that one in five women will be sexually assaulted at some point in their lives? Last week, Saint Xavier University's (SXU) male community rocked a set of high-heels and strutted their stuff as they participated in the University's Third Annual Walk a Mile in Her Shoes® event on Wednesday, March 29. Male students, faculty, and staff walked one mile of campus to get the community talking about topics including gender relations and sexual assault.
April is Sexual Assault Awareness Month across the country. As a way to kick-off this awareness month, men at SXU got pumped up – literally – in order to raise awareness about this pressing issue within society.
The day's event generated a lot of buzz across various media outlets, including:
AP Planner (print only)
The Reporter (print only)
About Walk a Mile in Her Shoes®
The mission of Walk a Mile in Her Shoes® is to create a unique and powerful public experience that educates individuals and communities about the causes of men's sexualized violence against women, and provides them with prevention and remediation strategies. The march empowers men, and all participants, to further develop and implement these strategies both interpersonally and politically.
---