SXU's HR department welcomes new HR director Tasha Jones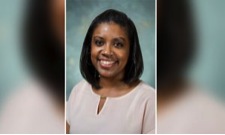 Saint Xavier University's (SXU) Human Resources (HR) Department is excited to welcome Tasha M. Jones, director of HR, to the team. She comes in with 10 years of experience, and specializes in: core HR, process development, performance and disciplinary management, leadership coaching, corporate training, organizational development, employee relations, benefits management, and HRIS administration.
"As I'm settling into my role one thing I found that resonates amongst all the people I've met is the passion and loyalty to the students and mission of this University," said Jones. "That is what excites me! My focus is on delivering the highest quality service and employee experience in order to help employees perform at their best. I'm delighted that I was chosen to be a part of the SXU community! Go Cougars!"
Prior to SXU, Jones was employed with The Next College Student Athlete (NCSA), which helped her to increase her skill levels and responsibility in a fast-paced, cross-functional human capital management environment. She also developed and implemented a comprehensive framework for HR transactions, operations, initiatives, and strategy.
Jones holds a Master of Science in Human Resources Management from DeVry University's Keller Graduate School of Business in Chicago. She earned her Bachelor of Science in Business Administration from Illinois State University in Normal, IL. Jones and her husband reside in the Bronzeville neighborhood, and are proud parents to their 17-month old son, Jace.
The University extends its warmest welcomes to Tasha, and is excited to see her influence at work!
---