SXU to welcome new students and families through FOCUS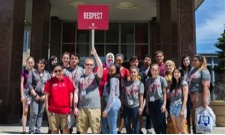 The Office of Student Affairs is looking forward to another exciting summer at SXU and thrilled to be hosting FOCUS this summer. The first-year orientation program welcomes students and parents into the SXU community. Out of the five sessions that will be offered, two will be aimed at Spanish speaking families.
FOCUS and Parent Orientation 2017 will take place on the following dates:
FOCUS 1: Wednesday, June 21 to Thursday, June 22
FOCUS 2: Sunday, June 25 to Monday, June 26
FOCUS 3: Wednesday, June 28 to Thursday, June 29 (Spanish speaking sessions offered)
FOCUS 4: Sunday, July 9 to Monday, July 10 (Spanish speaking sessions offered)
FOCUS 5: Wednesday, July 12 to Thursday, July 13
During each FOCUS, there will be important sessions that depend on the participation of faculty and staff from various departments. Please note that dates, times and names of the session may have changed from previous years:
Eat and Greet, formerly known as Guide to Personal Success, (Day 2, 11:30 a.m. to 12:30 p.m.): All departments, programs and offices are invited to participate in the Eat and Greet information fair. Tables will be set up around the perimeter of the diner atrium and other eating spaces. Use this time to make connections with students and parents by informing them of your services and recruiting them to participate in your programs! Please feel free to provide any handouts or promotional materials (Spanish language materials are encouraged for FOCUS 3 and 4). This event has been well received by students in the past. Reserve your space by filling out a registration form.
Meet with your College/School (Day 2, 8:30 to 9:30 a.m.): This will be the first opportunity for students to get to know faculty, staff and advisors for their academic area of interest. Help answer students' questions and inform them of expectations that come with their major.
The Professor Perspective (Day 2, rotating sessions 9:30 a.m. to 2 p.m.): Students will learn what is expected of them inside the classroom at a university. Shed some light on classroom etiquette, studying, assignments and more by participating in this session!
For more information, please contact Rita Hickey or Carrie Schade in the Office of Student Affairs at 773-298-3123.
---