Who's who at SXU -- University Advancement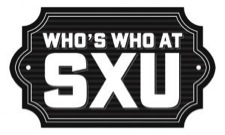 At Saint Xavier University (SXU) we are more than just a higher educational institution, we are a community -- one that is compiled of multiple facets of knowledge and expertise. This year, we would like to share the faces of those behind the SXU brand through its "Who's who at SXU" campaign.
Here to kick-off the campaign, is our University Advancement team! This team works very diligently to share SXU's story and champion its mission and vision across the state, region, and nation. Most importantly, they work to enrich SXU life by building relationships and securing private support that transforms lives and makes excellence possible. The reason people give back to SXU are as numerous and diverse as our alumni and friends themselves, but every gift -- of time, talent, and treasure -- helps secure a bright future for ALL Cougars!
Meet our University Advancement team:
As Assistant Director/Post-Award Manager of Corporate, Government, and Foundation Relations, Maribel Acevedo is responsible for managing the post-award component of the University's grants program by identifying grant management needs and addressing grant management issues. She works closely with principal investigators and a range of internal departments to ensure that all grants are administered effectively, efficiently, and in full compliance with University and grantor policies and procedures. Maribel has been at SXU for eight years. She hopes to work more closely with SXU's grant program investigators through workshops and training to enhance their knowledge of grantor agency and federal compliance requirements.
Fun fact: She makes homemade kefir, where she takes care and nurtures the culture (live kefir grains) and ferments the milk. Milk kefir has many wonderful health benefits and can be used for more than just a beverage!
Associate Vice President for University Advancement, John Bass is responsible for leading and managing all aspects of the University's comprehensive Advancement program, including: donor development and fundraising, prospect/donor communications, and alumni relations. He works closely with the University Advancement Committee of the Board and serves as an advisor to the president on matters affecting the institution. As an ongoing process, John wants to provide alumni, friends and supporters of SXU with the best possible meaningful and memorable experience in their engagement and relationship with the University. In addition, John strives to provide the highest level of service that exemplifies the Core Values of SXU's Mercy mission.
Fun fact: He thoroughly enjoys projects that require hard physical labor, but also enjoys cooking and the arts. John also likes to spend time with his five kids and seven grandkids ... with two more on the way!
Executive Assistant for University Advancement, Wendy Doherty has worked in a variety of roles throughout her 26 years at SXU. In her current role, she provides primary secretarial and executive administrative support to the associate vice president, director for annual giving and the major gift officer. She coordinates administrative activities for University Advancement, such as: operational budgets, credit card charges, liaison to the office of the president and maintains donor records in Raiser's Edge. She continues to maintain her goal of keeping the University Advancement office running smoothly at all times, while providing assistance to the entire staff when needed.
Fun fact: She loves to sew, make jewelry, crochet, kumihimo braiding, garden, bake and cook; not to mention, spending time with her two grandsons (9 and 6 years old), who keep her very busy!
Major Gift Officer, Anthony Denovellis is the most recent addition to the University Advancement team and started January 2017. In his role, Anthony will collaborate with the University Advancement staff, University administration, and faculty and volunteers, for the identification, cultivation, solicitation, and stewardship of major gifts from potential donors. In the coming year, he will focus on soliciting gifts of $10,000 and higher from alumnae and non-alumnae supporters of the University.
Fun fact: He once met a freshman senator from Illinois and had a brief conversation with him, shook hands, and even received his business card ... his name was Barack Obama!
As Associate Director of Corporate, Government, and Foundation Relations, Denise DuVernay works to seek grant possibilities and funding for programs, faculty and scholarship support from government and foundation entities. She works with faculty and staff to write proposals and does her best to steward relationships with funders. Denise has worked at SXU for four years, serving in many roles prior to working with the University Advancement team. Her goal in the coming year is to make the campus community more aware of the services offered through the grants office and learn more about the research and pedagogical interests of SXU's hard-working faculty and staff. In doing so, she hopes these efforts will also serve to increase the number of faculty she works with on a daily basis.
Fun fact: Denise and her best friend co-authored a book called The Simpsons in the Classroom: Embiggening the Learning Experience with the Wisdom of Springfield in 2010 (available in SXU's library). The dynamic duo is currently working to write a second book about the show, an edited collection of essays.
Executive Director of Alumni and Donor Relations, Jean Gainer is responsible for providing leadership to strengthen the University's relationship with alumni and friends of SXU through activities, programs, and events that reflect the mission, vision, and the goals and objectives established in the University's strategic plan. She oversees the planning and execution of alumni activities in targeted regions across the state, region, and nation to enhance alumni engagement and cultivate connections. Over the next year, Jean will work to increase alumni participation at events by tailoring events to meet the interests of specific demographics. She has been a part of the University Advancement team for 10 years.
Fun fact: Jean is an avid Grateful Dead fan and tries to see cover bands whenever possible!
As Director of Prospect Research and Gift Planning Julie Grisolano identifies, cultivates, solicits, and stewards "deferred gift" prospects and donors; primarily, those donors who are interested in estate planning options. On the research side of her role, she provides donor research for SXU staff and faculty in order to help facilitate their successful fundraising efforts. She has been at the University since October 2014. In the coming year, Julie hopes to show the enormous impact that SXU faculty and graduates have had in their respective fields and in the community, so that potential donors will be motivated to leave a legacy gift to the University.
Fun fact: For years, Julie has made her New Year's Resolution to actually run, not walk a 5K; in 2017, she is determined to make that happen!
Assistant Director of Alumni and Donor Relations, Maloree Johnson is responsible for assisting the executive director in strengthening the University's relationship with alumni and friends at SXU through various activities, committees, and programs. Additionally, she works to design and implement programs and events for the purpose of increasing financial support to the University with successful cultivation and stewardship of alumni and friends. This year, Maloree hopes to expand opportunities for alumni involvement and enhance connections between alumni and students. She will work hard to create widespread opportunities for students, and in turn, showcase SXU's alumni, students, staff, and faculty. Maloree joined the University Advancement team in November 2016.
Fun fact: Maloree is a concert goer and diehard music lover. In fact, she is a CD collector and currently has a collection that includes over 200+ CDs!
As Executive Director of Corporate, Government, and Foundation Relations, Erin Mueller oversees pre-award proposal development and submission; award acceptance and contract negotiation; and post-award management and compliance (non-financial), including monitoring of performance reporting. She recently joined the SXU community in November 2016, but brings 14 years of experience to the University Advancement team. Her goals in the coming year would be to apply her experience and knowledge of corporate, government and foundation fundraising to best suit Saint Xavier's strategic plan. She hopes to continue to work with faculty and leadership to cultivate new funding opportunities.
Fun fact: She coaches her daughter's third grade basketball team!
Gift and Record Processor, Sharon Panozzo is responsible for processing donations to the University, as well as thanking the donors. She enters and maintains data in the development gift information system. This year, Sharon hopes to continue to work hard and assist the University Advancement team, as she has done every year for the past 15 years of service to the University.
Fun fact: She loves nature photography and spends a lot of her time walking in the forest preserves taking photos.
Over the course of 13 years, Executive Director of Advancement Services, Anna Simons has been a vital member to the University Advancement team. In her role, she is directly responsible and accountable for planning, analyzing, designing, and implementing all necessary and/or required reports relative to all University fundraising activities and constituent data management. In coordination with the Associate Vice President of Advancement John Bass and the accounting department, she works to plan, develop and implement audit control procedures relative to gift acceptance, gift management, gift receipting, and gift reporting relative to credit care, check, and cash securities transfer transactions. In the upcoming year, Anna hopes to maintain the data integrity and acquire more employment information on SXU's constituents. As always, she will continue to look for ways to improve systems, protocols, processes and to make the system work smarter, which makes University Advancement staff more successful in their fundraising.
Fun fact: She starred in a TV commercial when she a freshman in college for Maggiolini's Italian Restaurant!
Director for Annual Giving, Alyssa Strbjak is directly responsible for the planning, development, implantation and evaluation of the University's annual fund, Saint Xavier Fund, fundraising initiatives that include both direct mail and phonathon. This year, she hopes to increase SXU's undergraduate giving rate and increase revenue for the SXU fund. Alyssa has been a part of the University Advancement team for over two years.
Fun fact: She married her high school sweetheart!
Check back next month to read the latest installment of Who's who at SXU!
---