/
/
/
SXU's women's basketball head into NAIA National Championship title game
SXU's women's basketball head into NAIA National Championship title game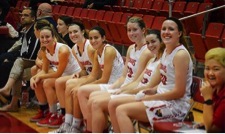 Join fellow Cougar fans at a viewing party tonight in the Shannon Center as Saint Xavier University's (SXU) women's basketball team play for the NAIA National Championship title for the first time in program history!
The team's success was featured in an article by reporter Howard Ludwig of DNAinfo Chicago today, March 14. Read the story online and stop by for the viewing party later this evening!
The party will kick off at 7 p.m. in the Shannon Center, with refreshments, half-time games and prizes and tons of Cougar pride. The game is set to begin at 7:04 p.m. in the Tyson Events Center in Sioux City, Iowa where the SXU Cougars face off against back-to-back champions Marian University (Ind.). The title game will be broadcasted on ESPN3.
For more about the women's basketball team, visit the SXU Athletics web page.
---