SXU women's basketball play January 7 to unseat the #1 ranked team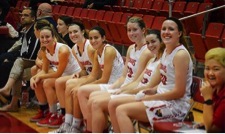 This Saturday, January 7, our No. 3 ranked Saint Xavier University women's basketball team faces off against No. 1 ranked and arch-rival University of St. Francis (Ill.) in an epic showdown at 1 p.m. at the Shannon Center! Both teams will likely go into Saturday's big match-up with undefeated records and Saturday's winner will have a chance to either remain or take over the NAIA's top spot when the next Top 25 national poll is released next week!
We are asking all Saint Xavier staff and faculty to help us pack the arena this Saturday afternoon at 1 p.m. and create an atmosphere to help our women's team succeed! How often can you watch two of the nation's finest women's basketball teams go head-to-head on our home court for FREE (with school ID)? Help us spread the word and come out on Saturday to watch this BATTLE OF UNBEATENS! Go Cougars!
Following the women's game, stick around to witness the men's basketball team also face off against University of St. Francis at 3 p.m. in the Shannon Center.
---