SXU Students' Artwork Published on University Christmas Cards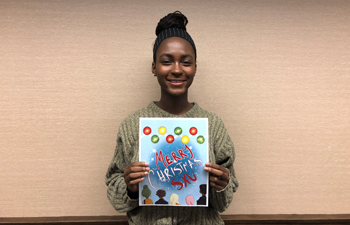 Imagination has the tremendous gift of transforming the world around us through art, music and the written word. It can bring joy to the darkest of places, send goosebumps down the spines of moviegoers, inspire amazing innovation in academia and science and helps shape the stories for the lives we lead.
At Saint Xavier University (SXU), imagination was encouraged by students with the introduction of the SXU Christmas Card Design Contest this year. As part of the contest, students were asked to submit Christmas card designs that reflect SXU. Two designs were chosen to be featured on the University's Christmas cards, each sent out to help bring an extra spark of holiday joy in the SXU community.
The top prize, the President's Choice winner was Cherith Clottey, a freshman studio art major from Blue Island. The design featured students representing a wide range of backgrounds looking out at the holiday message, suspended in a sparkling window of blue beneath colorful ornaments displaying the University's eight core values.
"My design for the card was inspired by the people around me," said Clottey. "I wanted to show how diverse the SXU community is and how united we are. SXU is really known for its diversity, and it's something I can see every day. I wanted to highlight this because I believe it's what makes this place feel like SXU. I wanted to showcase the community in a holly jolly way!"
Born and raised in London, England, Clottey moved to the United States when she was seven-years-old and began her artistic journey. As it does for so many children around the world, Disney stories made a lasting impact in Clottey's life. So much so that they directly defined her plans for the future.
"After graduation, I want to go work for Disney and create beautiful stories that will inspire all generations," said Clottey. "I want the younger generation to feel represented and give people around the world stories that will live with them forever." Clottey also has dreams of one day creating her own art gallery, not only by creating the paintings that will hang on its walls but also by creating a world of paint, ink and pencil that these paintings will showcase.
The People's Champ, as voted on through social media, was senior Kamila Fudala. She is a biology major from Justice, Ill., studying to enter the optometry field. Her design featured a very colorful rendition of Champ the Cougar, skating atop an icy Lake Marion.
Saint Xavier University could not be more proud of the profound creativity shown by our students every day and the imagination they carry out into the world during this festive time of year.
---